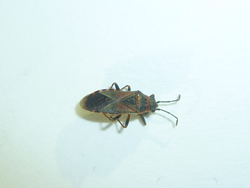 there are ways to keep these pests out of structures
Boise, Idaho (PRWEB) June 09, 2014
Barrier Lawn & Pest is providing four tips for Boise residents to help them get rid of Elm Seed Bugs this summer. This new invasive species can be a nuisance for Idaho home owners, and can be present in large numbers. However, taking the proper steps can eliminate these pests.
Elm seed bugs were first spotted in Idaho counties, Canyon and Ada in 2012. They come from south-central Europe, and how these bugs migrated is unknown. Elm Seed Bugs are visibly related to Box Elder Bugs, and the two are often confused. The only major visible difference is size; Elm Seed Bugs measure around a quarter of an inch. The Elm Seed Bug overwinters as an adult, mates and lays eggs in the spring on elm trees. The larvae feed on the fruits and seeds, and in May or June become adults. These pesky creatures begin entering homes in earnest during the summertime.
Elm Seed Bugs are a nuisance because they often enter homes and other buildings in large numbers, as this video illustrates. The bugs have scent glands that produce an unpleasant odor when crushed – making them even more of a nuisance. They are often observed inside around windows, doors, and in kitchens and bathrooms.
Populations of Elm Seed Bugs are expected to continue to rise in 2014, as early reports from Barrier Lawn & Pest's technicians and customers indicate.
Though this invasive species is known for pestering home owners in great numbers, there are ways to keep these pests at bay.
1. Sealing cracks in the foundation, as well as around doors and windows. Proper sealing of these areas with calk or other material is vital to block entry.
2. Install screens on doors and windows. As weather warms up, doors and windows are often left open. Unfortunately, this quite literally opens the door for Elm Seed Bugs to pass through freely. Installing screens allows people to enjoy open doors without letting bugs in.
3. Remove Elm Trees if possible. This is probably the most important thing home owners can do to remove harborage and food for Elm Seed Bugs. Though expensive and heartbreaking to watch a beautiful shade tree go away, residents can take comfort in having a more pest-free home.
4. Exterior perimeter treatment with a residual insecticide that focuses on cracks, crevices, and possible entry points is a must. Safe consumer products are available for use that will do the trick. If residents are uncomfortable doing it on their own, they should contact a reputable, licensed pest control company to do the job.
For more information about preventing pests, please visit here.
About Barrier Lawn & Pest
Barrier Lawn & Pest is a family owned full service pest control and lawn care company, and has been serving the Boise area since 2006 and are headquartered in Nampa, Idaho.
Barrier provides quality service, uses the best products available, and takes a personal interest in beautifying and protecting your property. We serve most of Southwestern Idaho: Boise, Garden City, Eagle, Emmett, Meridian, Kuna, Nampa, Middleton, Star, & Caldwell.