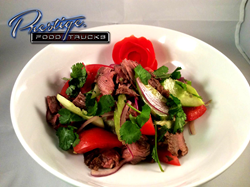 Orlando, FL (PRWEB) May 28, 2014
A couple from Christiansburg, Virginia, decided to narrow down the distance between Thailand and their beloved state by starting a food truck. Brian and Jang Lawson will unveil their Thai food truck this summer and couldn't be happier with their decision to partner with Prestige Food Trucks to make their dream finally happen.
Brian Lawson, owner of Thai This Food Truck said, "My wife moved from Thailand to the U.S. in 2009 and really struggled to find good Thai food that reminded her of home." He added, "We knew we had to find a way to bring Thailand's food culture closer, and starting a Thai food truck was the way to go."
Jang Lawson, who has a degree in agriculture economics, fell in love with the food business after working at a local bakery and later working at a Thai restaurant. The combination of her amazing cooking skills with Brian's extensive
background in the food industry made for a perfect business foundation that allows them to bring a taste of Thailand to the good old South.
"Staring a new business is very self-fulfilling and my wife and I couldn't be more thrilled. We lucked out to partner with such a great company, too. The guys at Prestige Food Trucks are always sending us picture updates of the truck and are always quick to get back to us when we have questions," said Brian.
Prestige will have Thai This Food Truck ready by mid July and ship it from Orlando to Christiansburg so Brian and Jang can start spicing up the lives of their fellow Virginians. The truck will be present in festivals, fairs, expositions, and special occasions such as weddings and private parties. Reach them online at http://www.facebook.com/Thaithisfoodtruck.
About Prestige Food Trucks
Prestige Food Trucks is the world's leading custom food truck, vending trailer and specialty vehicle builder/manufacturer. Prestige is based out of Orlando, Florida, but they ship nationwide and internationally. Their commitment is to provide competitive pricing, top-notch quality and great customer service. Prestige Food Truck also offers repairs, financing, rental options and food trucks for sale as is or fully customized to fit the needs of a wide range of clientele from sole-proprietors to nationwide chains.
More information about Prestige Food Trucks is available online at http://www.prestigefoodtrucks.com