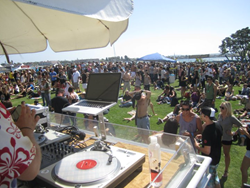 This day by the bay filled with tasty music and oysters, a true communion with the sea, is not to be missed. - Myles O'Reilly, Producer Oysterfest
San Diego, California (PRWEB) May 29, 2014
SDO Productions and 91X announce the fifth Annual San Diego OysterFest coming up on Saturday, June 14, 2014, in San Diego's Embarcadero Marina Park North. The Festival features a day of superb oysters, local beer, and a killer lineup of live music, including six bands and five DJs , from 11:00 a.m. to 7:30 p.m. Bands include headliner Matt & Kim, Boombox, He's My Brother, She's My Sister, Oliver Trolley, Barbarian, 22 Kings. Oysters from British Columbia and from along the West Coast of California down to Baja are available, as well as delectable offerings from many of San Diego's favorite restaurants. In fact, there are more than 10 beers, as well as a wide range of other beverages, including wines, cocktails, whiskey and nonalcoholic beverages to choose from.
In between musical acts, Festival-goers can visit cooking demos by celebrity chefs, cheer on the teams in the "Shuck and Suck" competition, encounter San Diego's fastest oyster-shucker, and learn all about oyster farming in California at the Oyster Expo history exhibit. Myles O'Reilly, founder of the San Diego OysterFest, says, "This day by the Bay filled with tasty music and oysters– a true communion with the sea—is not to be missed." The San Diego OysterFest is proud to donate a portion of the day's proceeds to Advokids.
Event Details:
5th Annual San Diego OysterFest
Saturday, June 14, 2014
Open at 11:00 a.m. Live music from Noon– 7:30 p.m.
SDO Productions • http://www.oysterfestsd.com • sdoysterfest (at) gmail (dot) com
Tickets at https://www.ticketor.com/oreillysoysterfestival.com/default.