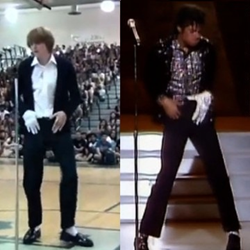 Turlock, CA (PRWEB) May 28, 2014
With over fifteen million views on YouTube in just a few days, Michael Jackson is back in the news through the most unlikely source. On May 21st seventeen year old Brett Nichols took the internet by storm when the video of his rendition of "Billie Jean" was uploaded to YouTube. The video was recorded when Brett won his high school talent show and it quickly won the attention of people across the world.
The global discovery of Brett's incredible talent has created a media firestorm, with the video being played on every major media outlet including CNN, TMZ, E!, CBS, The Today Show, and many more!
The video has even reached the Jackson's themselves, Brett has received a special package from Michael Jackson's estate which included a huge trophy, a copy of MJ's new album "Xscape", and an invitation for Brett and his family to join the Jackson family on Michael's birthday for the live performance of Michael Jackson ONE in Las Vegas.
Michael's rep told TMZ, "The executors saw Nichols' impressive performance and were blown away."
All this attention has caused a huge demand for more from Brett. He has received offers from all over the planet for interviews, performances, and appearances so Brett has decided to release more videos of MJ's routines starting with the infamous dance in the "Smooth Criminal" video. He will release the video on Monday June 2nd on his official YouTube Channel. He is also planning on pursuing a career in acting and is considering roles that he has recently been approached with. For more information contact Domenick Nati at NatiCelebs(at)gmail(dot)com.
https://twitter.com/BrettWNichols
http://instagram.com/BrettNicholsOfficial
https://www.youtube.com/BrettNicholsOfficial
https://www.facebook.com/BrettNicholsOfficial