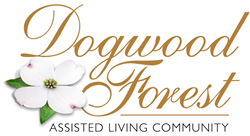 Our residents were so honored and so happy that the students chose to do this for them.
(PRWEB) May 29, 2014
Teenagers and senior citizens came together at Dogwood Forest Assisted Living Community this month and had a ball—literally. Local students volunteered to hold a "senior prom" for Dogwood Forest's residents.
The students are members of the Sandy Creek High School Key Club, an organization dedicated to service and leadership. The Sandy Creek chapter comes to Dogwood Forest every Christmas to sing carols, according to Kia Crawford, a spokesperson for the senior community. But she said this year they wanted to do something more.
"Our residents were so honored and so happy that the students chose to do this for them," Crawford said. "It was heart-warming to see."
Crawford says students assembled 60 corsages, inflated balloons and decked out the Dogwood Forest dining room. In order to pay for the costs of the prom, Key Club students even applied for a small grant.
"Working with our staff, they ended up choosing Hollywood as a theme," said Crawford. "They chose a perfect playlist of songs our residents know from their youth. And every resident's name was on a Hollywood star as they made their way down the red carpet."
Tami Tucker, Dogwood Forest's Life Enrichment director, said the event was a success.
"We have so many events and activities at our community for our residents, but this prom conceived by Sandy Creek students was such a beautiful thought," she said. "Everyone was dressed to impress."
Of course, the students knew that no prom is complete without a Prom King and Queen. Dogwood residents Tom Gordy and Inez White were chosen based on everything they do for their community.
In addition to this first ever prom and the yearly Christmas carols, Key Club students also visit Dogwood Forest for Veteran's Day activities. Crawford said working with seniors helps the teens build character and learn to perform service work.
"The Senior Prom was a win-win," she said. "Our residents were thrilled, and the students learned a great deal about how to manage an event."
About Dogwood Forest Communities:
Dogwood Forest is a group of assisted living communities managed by family-owned senior living management company Trinity Lifestyles Management. Trinity believes that a better living environment leads to a better life. Its mission is to provide Georgia's seniors with living environment designed to maximize health, and happiness outcomes. Each Dogwood Forest community enhances senior living by balancing the need for mental, physical and emotional health. Dogwood Forest of Fayetteville can be contacted at:
Dogwood Forest of Fayetteville
1294 Highway 54 West
Fayetteville, GA 30214
(770) 719-9010
http://www.dogwoodforest.com/