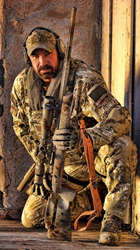 The Great Dixie Ammo Dump will offer participants a one-of-a-kind experience that you just can't get anywhere else and I'm excited meet and shoot alongside the good people of Hoschton and surrounding counties
Phoenix, AZ (PRWEB) May 29, 2014
Known as one of our nation's top marksmen and recognized for his service in the Marine Corps, as an operator on SEAL Team One and a member of the elite DEVGRU unit, Craig "Sawman" Sawyer will join local shooters at the upcoming Great Dixie Ammo Dump Machine Gun Shoot.
Showcasing some of history's most popular and iconic machine guns like the MG-74, Russian RPD, AK-47 and a Thompson Submachine Gun, The Great Dixie Ammo Dump gives local enthusiasts an opportunity to participate in a full-auto experience alongside one of the best in the business in Craig Sawyer.
WHEN: Saturday, May 31st 2014 12:00 p.m. with check-in at 11:00 a.m.
WHERE: Dixie Ammo Dump 237 Amy Industrial Hoschton, GA 30548
COST: $150 per gun, two gun minimum with all ammo provided.
"The Great Dixie Ammo Dump will offer participants a one-of-a-kind experience that you just can't get anywhere else and I'm excited meet and shoot alongside the good people of Hoschton and surrounding counties," explained Sawyer.
For information on The Great Dixie Ammo Dump, please visit http://www.armthepopulace.com or call 706-654-5614 to register.
About Craig Sawyer:
Craig Sawyer, AKA "Sawman," grew up near Houston, TX and got his tactical start in the U.S. Marine Corps. He quickly transitioned to the U.S. Navy to pursue high-level Special Operations as a U.S. Navy SEAL. As an Operator at SEAL Team One, Craig gained critical combat experience in Desert Shield and Desert Storm. Those operations included the capturing of the very first prisoners of the war, CSAR (Combat Search And Rescue) Operations, Sniper Operations, Counter-Mine Operations and FAV (Fast Attack Vehicle) Operations resulting in decoration for "Heroic Service." After returning from Desert Storm, Craig served as a SEAL Sniper Instructor until being promoted to DEVGRU. While serving at SEAL Team One, Craig fought in various Martial Arts tournaments in South-East Asia, as well as SCARS (Special Combat Aggressive Reaction System) hand-to-hand training under Jerry Peterson and Lew Hicks. These experiences built upon his Martial Arts history of fighting various tournaments, such as the Karate Olympics tournaments in Houston, TX and one year of formal boxing under Henry & Jim Harris.
After serving in the Navy, Craig signed on as one of the "Original 33" Federal Air Marshals, who were in place prior to the 9/11 attacks against the U.S. Craig remained there for 5 years reaching the management rank of J-Payband ATSAC (GS-14). At that point, Craig began contracting in the various combat zones, running tactical teams and protecting high-level U.S. Dignitaries. In the realm of "High-Threat, Mobile Security", Craig has run the specialized teams responsible for providing security to U.S. Senators, Hilary Clinton, John McCain, U.S. Secretary of Defense, Donald Rumsfeld, as well as U.S. Ambassador John Negroponte and other U.S. Ambassadors and various, key U.S. and Iraqi leaders. *Other specialized training and experience remains classified.
Craig still remains operationally active in multiple roles. In addition, he often instructs various advanced training courses as Director of Training for Cowtown Training Division in Scottsdale, AZ and Solutions Group International out of Beverly Hills, CA, in addition to other tactical contract work.
In Hollywood, Craig has made a name for himself as the most frequent "Expert" on all 5 seasons of History Chanel's TOP SHOT, as well as Team Leader and voice for Animal Planet's BATTLEGROUND: RHINO WARS. Other on-screen appearances are on the Military Channel's Deadliest Tech: Spec Ops, History Chanel's Sniper: Deadliest Missions, H2's Top Guns, as well as virtually every major television news station and morning talk show, including The Today Show, Fox & Friends, Morning Joe, Cbs Evening News, Fox News.
Additional information can be found at http://www.tacticalinsider.com
Media contact:
Jason Jantzen
Phoenix Marketing Associates
http://www.PhoenixMarketingAssociates.com
602-282-0202