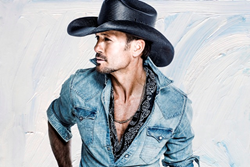 Choctaw, MS (PRWEB) May 28, 2014
Pearl River Resort is pulling out all the stops for Silver Star Casino's 20 year anniversary.
Pearl River Resort is pleased to invite the public to partake in the huge anniversary celebration. Festivities will include big-name acts, a bigger and better Fourth of July fireworks show, an exciting rooftop party, and a lucrative anniversary-themed promotion.
Grammy Award-winning country music singer, Tim McGraw is slated to kick off the celebration on Thursday, June 26th. Tim McGraw will perform chart-topping hits like "I Like it, I Love it," "Live Like You Were Dying," "Real Good Man," and "She's My Kind of Rain."
The concert lineup also includes:

Lady Antebellum will take the stage on Sunday, June 29th at 8pm. The popular country music band will perform hits like "Need You Now," "I Run to You," "Lookin' for a Good Time," and "American Honey."
Josh Turner will perform live in concert on Tuesday, July 1st at 8pm. The country music heartthrob is best known for hits like "All Over Me," "Your Man," "Would You Go with Me" and "Time is Love."
Country music legend, Marty Stuart will deliver a remarkable performance on Thursday, July 3rd. The Philadelphia native is popular for hits like "The Whiskey Ain't Workin'," "Hillbilly Rock," and "Western Girls."
Alabama will take the stage on Saturday, July 5th at 8pm. The legendary country music band is best known for Number One hits like "Old Flame," "Southern Star," "Take Me Down" and "Reckless."
The above concerts will be held in the Silver Star Convention Center. Tickets may be purchased through Ticketmaster beginning on June 1st at noon by calling 800-745-3000 or online at http://www.ticketmaster.com. Ticketmaster Will Call tickets can be picked up at the Silver Star Box Office.
Rooftop Party and Fireworks!
On the Fourth of July, Pearl River Resort will host a rooftop party featuring the Jason Miller Band and a bigger and better fireworks display for all to enjoy. The party will be held at 9pm on the Fourth Floor of the Parking Garage at Silver Star Hotel & Casino.
Big 20 for 20 Promotion – Win Up To $20,000!
Guests will have a chance to win up to $20,000 in the 20 for 20 Promotion. This month long promotion will be held every Thursday, Friday and Saturday in July at the Silver Star Promenade. Players can start earning entries now!
Don't miss this huge anniversary celebration with big-name acts, fireworks, and chances to win cash! For more information, visit http://www.pearlriverresort.com or call 1.866.44PEARL. Guests must be at least 21 years old to attend shows. To stay updated on all Pearl River Resort news, events and contests, join us on your favorite social media sites: http://www.facebook.com/PearlRiverResort, http://www.twitter.com/PRRofficial, or http://www.youtube.com/user/PearlRiverResort.
About Pearl River Resort
Pearl River Resort is the Southern United States' first comprehensive luxury gaming resort. Pearl River Resort's portfolio of assets includes Silver Star Hotel & Casino, Golden Moon Hotel & Casino, Dancing Rabbit Golf Club, and Geyser Falls Water Theme Park located in Choctaw, Mississippi and Bok Homa Casino located in Sandersville, MS.
The Silver Star and Golden Moon Casinos feature two exciting hotel/casinos with approximately 2,400 slot machines, 59 table games, 1,074 hotel rooms, Phillip M's award-winning steakhouse, a sports bar and grill and a variety of other dining options, a full service spa, retail offerings and live entertainment. Also featured is Dancing Rabbit Golf Club with two championship golf courses and Geyser Falls Water Park. Bok Homa Casino is the latest addition to Pearl River Resort featuring over 750 slot machines and a quick-serve eatery.