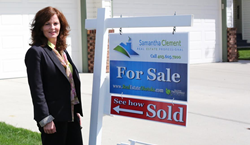 I would go and view a home with my buyers within mere hours of it being listed for sale and we would end up in a bidding war with multiple other buyers, some of which were submitting unconditional offers.
Calgary, AB (PRWEB) May 29, 2014
In February 2014, nearly 20 per cent of all MLS residential sales in Calgary sold for more than the listed price and there has been no let up since. Many buyers are forced into bidding wars just to get the house that they desire and its common to see multiple offers put in on highly desirable homes. Most properties that are subject to a bidding war end up selling above the original asking price and usually within 24 hours of being listed.
Jamie Sturgeon, of Global News reported on May 15th, 2014 that the newly lowered interest rates coupled with low inventory are fueling bidding wars in Canada's major cities. Toronto saw a 10.1 percent increase in the average selling prices from last April. The average selling price for homes in Toronto is $577,898. In Calgary, the average selling price for a home is $483,887 and in Greater Vancouver, the average selling price is $619,000.
While the majority of Canada is experiencing a "comfortably cool" spring in regards to price increases and sales, how is this bidding frenzy affecting the communities that surround cities like Calgary?
"Prospective home buyers in Calgary & Okotoks are more willing than ever to enter into a bidding war for properties they want to purchase" says Okotoks real estate agent, Samantha Clement. "The current competition for real estate in Calgary and the surrounding areas can be fierce and this often turns into an emotional frenzy. The cause of this frenzy is a shortage in inventory coupled with and a large pool of prospective buyers."
Clement continued, "In April I was representing some first time buyers and we ended up submitting offers on four different houses before we were finally successful. I would go and view a home with my buyers within mere hours of it being listed for sale and we would end up in a bidding war with multiple other buyers, some of which were submitting unconditional offers. It's very important for home buyers to stay in control of their emotions when entering into a bidding war as prices can get carried away."
Clement also added "While representing my sellers, I've seen a similar buying frenzy where multiple offers are quite common. I recently sold a home in Okotoks within 48 hours of it being listed. We received multiple offers and the home sold for $7,500 above the asking price. Last week I listed a nice starter home in Calgary and sold the property within 24 hours for the full asking price."
Samantha Clement is an Okotoks Real Estate agent from Real Estate Okotoks and provides services within Okotoks, Calgary and the surrounding area. For more information please visit her website: http://realestateokotoks.com/