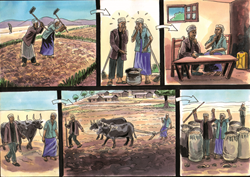 It's the attitudes and perceptions that lead to these inequalities that we hope to change.
Phoenix, Ariz. (PRWEB) May 29, 2014
According to a Demographic Health Survey conducted by Food for the Hungry (FH) in 2005, in some areas of Ethiopia, as many as 60 percent of women believe that a husband is justified in beating his wife if she burns the food or argues with him.
Forty-four percent of women feel that denying sex is a justifiable reason for a man to beat his wife, indicating that respondents generally accept violence as part of the male-family relationship.
This summer, FH published a comic book in partnership with Search for Common Ground (SFCG), as a continuation of a larger scale, four-year campaign to reduce gender-based violence, encourage girls' education and promote women's participation in household and community decision making. The program goal is to establish healthier normative gender relationships throughout the area.
The comic books are being distributed to several communities where FH works and serve as concrete, understandable illustrations of improved gender relations in the household and community. The books feature stories of local men and women who have begun to change their daily interactions with the opposite gender and have overcome various obstacles to healthy gender relationships
Women in the target areas play key roles in the economy, but are generally excluded from decision making within households and communities. This lack of participation, usually caused by cultural and historical norms, contributes to gender inequalities in nutrition, labor, education, fundamental rights and food security.
"One instance we see in many communities is that the burden of collecting water and fuel for the household falls on girls. This takes a toll on girls both physically and socially and reduces girls' school attendance, limiting their future opportunities," said FH/Ethiopia Country Director Tom LePage. "It's the attitudes and perceptions that lead to these inequalities that we hope to change."
The campaign also uses participatory theater. Local performers act out various daily interactions that members of the opposite sex might have, followed by a public dialogue. Performances are held in market places, villages and on the street where groups of people gather to watch, laugh, dance and engage in discussion. Additionally, FH has produced a 30-minute documentary that follows two women and a man who have crossed gender barriers when it comes to labor division and have overcome economic struggles in their households or achieved a healthier relationships in their home.
Several illustrations and posters like the two below are already in use in community gender discussions and are similar to those that will be in the comic books. These posters are used by a designated facilitator who asks questions after an image has been circulated in a discussion group of 30 to 40 participants to start them talking about the gender issue portrayed in an image. FH and SFCG hope that the comic book will engage communities and families in similar discussion.
"I always ask discussion participants if they have seen a change in the behavior of their children after they have practiced mutual respect and dialogue between husband and wife," said LePage after witnessing four gender-discussions in the area of Amhara. "I was really glad to hear that they have already seen changes in how the boys are respecting their mom and sisters more and even helping them in their (formerly) 'girl chores' around the house."
Founded in 1971, Food for the Hungry provides emergency relief and long-term development programs with operations in more than 20 countries to help the world's most vulnerable people. Learn more by visiting http://www.fh.org. Social connections include http://www.facebook.com/foodforthehungry and http://www.twitter.com/food4thehungry.