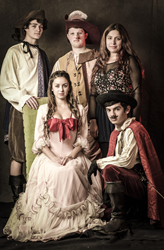 It's discouraging to think how many people are shocked by honesty and how few by deceit.
Northridge, CA (PRWEB) May 29, 2014
The class of 2014 is proud to present Noel Coward's "Blithe Spirit" on June 12th at 8:00pm at Highland Hall Waldorf School in Northridge, CA.
"Blithe Spirit" is an improbable farce that takes us into the living room of writer Charles Condomine and his wife, Ruth. To collect material for his latest book on mediums, Charles invites The Madam Arcatis into his home to hold a seance. To everyone's surprise, the seance is quite a success, but not an altogether welcome one: Charles' first wife, Elvira, has returned as a ghost to live with the new couple. In order to be rid of Elvira, the couple employs the Madam once again, and what ensues is sheer comedic genius. You will be gasping, laughing and feeling light of spirit.
The play was first mounted in 1941 and became the longest running, non-musical comedy. It opened on Broadway later that year, enjoying a lengthy run and many revivals. The most recent being the widely lauded London production earlier this year starring Angela Landsbury. Coward eventually adapted the play for film in 1945, which starred Rex Harrison. The musical adaptation, "High Spirits", hit Broadway in 1964 and through its many productions, has continued to 'raise the roof'.
Highland Hall's 'high-spirited' adaptation is directed by Nita Davanzo and stars Adam Adorney (National Merit Honor Student) formerly seen as Cyrano; Gal Tabachnik, Peal Sato, Julia Herrera, Lauren Hayes formerly seen as Capt. le Bret; Anthony Daecher and Alex Von Bergmann formerly seen as De Guiche; Ryan Yack, Sylvie Glassman, Sunny Georgeon, Alyssa Spratt and the entire senior class of 2014.
The performance will be held in the Center Courtyard of Highland Hall Waldorf School located at 17100 Superior St., Northridge, CA 91325 at 8:00 pm. There is plenty of free parking on site and on the adjacent street. The event is open to the public and the admission is free. Appropriate for grades 3 and up. For more information please feel free to contact the school at outreach(at)highlandhall(dot)org, or visit our website.
Highland Hall Waldorf School, located in Northridge, CA, was founded in 1955, and is the oldest Waldorf school on the west coast. It provides Waldorf® Education from Pre-school through High School to families throughout the San Fernando Valley and the greater Los Angeles area. Its unique approach to learning successfully addresses the changing needs and capacities of children at each stage of development. Fully 98% of its high school graduates move on to renowned colleges and universities; 42% of Waldorf graduates pursue college majors in mathematics or science. Featuring a curriculum of academically challenging lessons infused with arts and hands-on learning, Highland Hall provides students with a solid academic foundation, the ability to think creatively, a sympathetic interest in the world, self-confidence, and an abiding moral purpose.