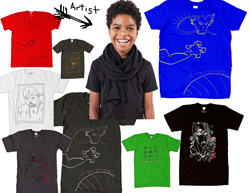 I was inspired by a parkour video.
Houston, TX (PRWEB) May 30, 2014
As ESPN debuts the XGames in Austin June 5th, Texas' own Santana Draper will be sponsoring a tent for his company, Paper Toy® where he will showcase two limited edition t-shirt designs.
"The 'Parkour Dude' design was inspired by a parkour video and one of film director Michael Bay's famous explosions. That's where the smoke comes from!" says Santana. "The second design is 'Paper Toy Anthem' an interpretation of Paper Toy's logo, which represents strength and humanity."
He often gets asked about the name of his company "Paper Toy".
"When I was really young, I was discovering my love of art. I also realized how expensive the toys my Dad were buying for me, so I began sketching action figures and cutting them out of paper. I'd call them 'My Paper Toy'. It was a natural progression to naming my company 'Paper Toy'. It was also apparent to me, even as a little kid, that other kids didn't always have what they needed, so we donate some of the money from the t-shirts to Kids' Meals in Houston."
Check out Santana's designs at Paper Toy's tent in the Next X Park where you can be inspired to try some XGames' sports, including skateboarding and BMX.
About Paper Toy®:
Santana's designs originally debuted through such sites as Fab.com and Zulily.com. Paper Toy® designs are now available on Amazon.com and have their own boutique online at http://www.PaperToyClothing.com.