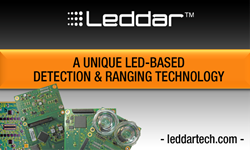 This original approach was awarded the "Best of Sensors Expo Innovation Award" at the show last year, where it generated significant interest, especially among developers, integrators and engineers.
Quebec City, QC (PRWEB) May 30, 2014
LeddarTech, owner of the patented Leddar™ LED-based detection technology, is pleased to offer state-of-the-art sensor modules offering unparalleled ease of integration. These modules enable brand owners and original equipment manufacturers to use the innovative Leddar™ approach to include lucrative value-added sensing features in their finished products.
Integratable Modules
Leddar™ sensor modules provide ultimate ease of integration for a wide variety of systems across diverse industries. Their versatility stems from the fact that the sensor is highly configurable and can be adapted to almost any application simply by choosing among available beam widths (3° to 95°), and then setting various easily adjustable parameters to optimize performance in specific environments.
In terms of integration, Leddar™ sensor modules simplify both processes — hardware integration and software development — by including several interfaces, dedicated software, a valuable development kit. The kit greatly facilitates custom application development through its user-friendly programming interface that comes with .Net and C libraries and example code. Sample code for RS-485/Modbus for both Windows and Linux, as well as LabVIEW and MATLAB integration examples are also provided.
Leddar™ Technology
Based on the time-of-flight of light principle, the patented technology inside the Leddar™ sensor modules uses infrared LED lighting and combines 16 independent active segments with innovative signal processing to continuously provide rapid, accurate and robust detection and ranging — including lateral discrimination — across the entire beam, without any moving parts. Contrary to collimated types of emitters, the LED emitters of the Leddar™ sensor actively illuminate the area of interest. The multi-element Leddar™ sensor receiver collects the backscatter of the reflected light and measures the time taken for the emitted light to return back to the sensor. Excelling on the widest range of performance criteria, Leddar™ offers the best cost/performance ratio when compared with competing detection technologies (laser, radar, video, thermal imaging, ultrasonic, and PIR/motion).
Evaluation Kit
The technology is not the only unique thing about LeddarTech's offering. In fact, the company has packaged a full-fledged evaluation kit designed to allow end users to experience hands-on how the new technology can be used in their own real-world applications. "We strongly believe in our technology, and we think it's important for customers to feel as confident about it as we do", states Sonia Bélanger, Vice-President of Sales and Marketing at LeddarTech. "By offering them the possibility of trying before buying, we're allowing them to get to know the technology and its benefits, and be happy with their decision to adopt Leddar™ products". This original approach was awarded the "Best of Sensors Expo Innovation Award" at the show last year, where it generated significant interest, especially among developers, integrators and engineers. LeddarTech will once again be on-site at Sensors Expo & Conference 2014, in Rosemont, IL, from June 24 to 26, 2014, so drop by Booth 828, and see LeddarTech's new single-segment sensor, being launched at the show. Stay tuned for details on this new product, which will be issued in a separate release.
About LeddarTech (http://www.leddartech.com)
LeddarTech is the world's only supplier of advanced detection and ranging systems based on patented, leading-edge sensing technology that performs time-of-flight measurement using pulses from infrared LEDs processed through innovative algorithms, thus detecting a wide range of objects under various environmental conditions. Leddar™ Technology is highly adaptable, serves multiple markets and comes in different formats (assemblies, modules, or application-specific modules), providing brand owners and OEMs with a solution that meets their needs while ensuring quick and simple integration.