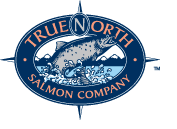 Portland, ME (PRWEB) May 29, 2014
True North Salmon Company, one of North America's most trusted producers of Atlantic salmon, has signed on as a Keystone Partner with SeafoodSource.com.
True North Salmon Company has been providing fresh, naturally raised, farmed Atlantic salmon to the United States and Canada for nearly 30 years. The family-run company is the largest producer of fresh Atlantic salmon in North America, and is a premier supplier of certified sustainable Atlantic salmon to leading supermarkets and restaurants across North America.
True North Salmon Company is an addition to an established roster of SeafoodSource.com Keystone Partners which includes Marel, Morey's Seafood International LLC, Eastern Fish Company, and BAADER North America Corporation.
SeafoodSource.com remains one of the leading online sources of seafood industry news and serves as official media for the largest seafood trade events including Seafood Expo North America in Boston and Seafood Expo Global in Brussels.
The Keystone Partnership is a non-exclusive opportunity. Partners receive maximum visibility through year-round marketing including run of site advertising on SeafoodSource.com and exposure through signage at events including Seafood Expo Global and Seafood Expo North America. Keystone Partners also receive a Premium Listing in SeafoodSource.com's Supplier Directory, which features over 2,500 seafood and service providers.
For more information about SeafoodSource.com and Keystone Partnerships, visit http://www.seafoodsource.com.
For more information about True North Salmon, visit http://www.truenorthsalmon.com or visit their Facebook page at http://bit.ly/truenorthsalmon to stay informed of upcoming seminars, special events, recipes, and cooking techniques.
About SeafoodSource.com
SeafoodSource.com is the leading international online business tool offering seafood industry professionals an interactive package of resources including industry news, editorial commentary, market reports, product reviews, classifieds and a comprehensive directory of thousands of seafood industry suppliers and products of specialized areas. SeafoodSource.com is an essential resource to stay connected and informed of the current trends and changes within the seafood industry. http://www.seafoodsource.com
About Diversified Communications
Based in Portland, Maine, USA, Diversified Communications provides information and market access through face-to-face events, magazine publishing, and online resources on four continents. Diversified Communications serves several industries, including seafood, food service, natural and organic, commercial marine, healthcare, and business management. The company's global seafood portfolio of expositions and media includes Seafood Expo North America, Seafood Processing North America, Seafood Expo Global, Seafood Processing Global, Seafood Expo Asia, Seafood Expo Southern Europe, SeaFood Business magazine, and SeafoodSource.com. The company operates divisions in Australia, Hong Kong, India, the UK, and Canada. http://www.divcom.com