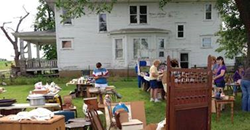 Henry County, IL (PRWEB) May 30, 2014
The annual cavalcade of commerce through northern Illinois is set for Father's Day weekend, June 13 and 14, 2014. More on 34 is the granddaddy of all linear yard sales, a weekend playing host to bargain hunters, antique buyers, and collectors from across the United States for treasure hunting over 100 miles across five counties. It's time for More on 34. Visitors never know what they will find along the way: yard sales, antique shows, craft shows, flea markets, and farmers markets in communities from Galesburg to Aurora.
Now in its ninth year, More on 34 has grown in popularity. The sale was featured as the number five reader favorite for yard sales in the 2013 April edition of Flea Market Style magazine. Cathy Foes, Henry County Tourism Bureau director, received a call in March from a Massachusetts antique and yard sale enthusiast who plans to travel the miles and miles of sales with her daughter. She said, "It's a way to spend time with my daughter doing something we both love." Foes responded, "Most of the sales are held on U.S. Highway 34, but don't be afraid to venture off the route when you see one of the many signs that says barn sale this way. It's a great way to experience the Illinois countryside, to meet the locals, and to find a treasure."
Participating communities along the way are Galesburg, Wataga, Oneida, Altona, Galva, Kewanee, Neponset, Sheffield, Wyanet, Princeton, Dover, LaMoille, Mendota, Earlville, Leland, Somonauk, Sandwich, Plano, Yorkville, and Aurora. Sales can be found in parking lots, in city parks, and in many yards all along Rt. 34. Sales typically run from 8am to 5pm, but some open earlier or remain open later. A few sellers even begin their sales on Thursday and continue through Sunday. Everything can be found along the route, from antiques or garden produce and plants to unique "junque." There is something for everyone in the family. Join in the fun by loading up the trunk of your car with your own items and setting up a booth along the route!
Sandwich is a town already known for antique items with over twenty shops downtown, but Timbercreek Inn and Suites will have vendors available outside selling their wares. Visitors are urged to make a stop in Earlville at the Methodist Church fundraiser; all sales are free-will donations and, while there, have a slice of home-baked pie. The pie sells out every year!
Bureau County Fairgrounds in Princeton will have a two-day sale on Saturday and Sunday with doors opening at 7am. Stop there early for great deals on new and used items, antiques, and collectibles. Admission is free.
On the southern part of the route towards Galesburg, stop in and celebrate Altona's Zip Code Day: 61414! Sales are at the United Methodist Church and they also offer a delectable lunch and bake sale. Beginning at 3pm until 7pm, the town will host historic home presentations, an ice cream social, and fireworks at dusk! A must-stop is Wataga where the park plays host to over forty vendors. Hawthorne Craft and Antique Mall in Galesburg will be brimming with antiques, foods, and crafts both inside and out.
One thing that you can collect for free during More on 34 are great stories from interesting people. The CVBs and communities that plan the event each year have collected stories throughout the eight-year event. Several years ago, More on 34 founder, Glenn Schwarm, met two women who had rented a truck and set out to furnish an entire household. By Saturday morning when he met them in Wyanet, the women had already bought a dining room set and living room furniture. They were on their way to Galesburg to discover and buy more finds! More on 34 organizers in Oneida said they have rented space the last several years to a dozen out-of-state vendors, some from as far away as Florida. A Kewanee antique dealer made a handsome profit by buying etchings for $100 and reselling them for $800.
To view a list of the sales posted and to plan your trip down the back roads, visit http://www.moreon34.com or call 877-436-7926.
Thrifty shoppers will hit the road with patience, plenty of perseverance, a full tank of gas, and cash in hand to experience the old adage, "One man's junk is another man's treasure!"
For more information on the Henry County Illinois Tourism Bureau, please visit: http://www.visithenrycounty.com.