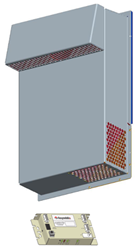 Richardson, TX (PRWEB) May 30, 2014
Asymblix, a leader in outside plant thermal solutions, announces the launch of the new HXFlo air speed sensor for use in the patented Asymblix1400 Watt heat exchangers. The HXFlo actively monitors the speed and volume of air moving within the heat exchanger's outer loop to provide greater insight into the cooling system's efficiency.
A common issue with heat exchangers in OSP telecommunications is debris being sucked into the external air inlet. This causes a major reduction in air flow through the core element resulting in reduced cooling capacity.
"Without a properly functioning cooling system, millions of dollars worth of OSP telecom gear is at risk of thermal damage. HXFlo warns of cooling problems well before temperatures start to rise inside the OSP cabinet. This gives operators a lot more time to react," said Brian M. Chappell, Lead Design Engineer for Asymblix. He also mentioned that the HXFlo module uses microprocessor technology to monitor critical data points multiple times a second.
The HXFlo solution integrates with the new VelociHX fan controller. VelociHX is the third generation fan monitoring and speed control platform from Asymblix and has been specifically designed for Asymblix' own heat exchangers and retrofit cooling systems. By monitoring interior cabinet air temperature, VelociHX tailors the speed of cooling fans based on thermal load of the OSP cabinet. Reducing the fan speeds to match thermal load allows a major reduction in fan noise and power consumption.
VelociHX locally indicates cooling system status through 8 indication LEDs, immediately pinpointing any problems. Furthermore, RS-232 communications and a standard dry-contact alarm output are available for connecting to any existing upstream site monitoring platform. Like HXFlo, the VelociHX fan controller is microprocessor controlled and monitors all data points over ten times a second.
HXFlo is available for most Asymblix heat exchangers, and VelociHX is available with heat exchangers and OSP retrofit cooling upgrades, as well as with customized thermal management solutions.
About Asymblix
Asymblix OSP Solutions provides the most comprehensive retrofit cooling systems and legacy remote site upgrade kits that enable telecom service providers to modernize their local delivery infrastructure at minimum cost and time. Asymblix has engineered unique cooling products and total mechanical retrofit kits and upgrades for each specific remote cabinet that has been broadly deployed by Telcos over the last 30 plus years.