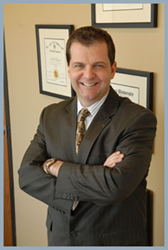 Burr Ridge, IL (PRWEB) May 28, 2014
Patients of Dr. Paul Denemark can now obtain accurate and intelligible answers to their oral health questions through a website Dr. Denemark has recently unveiled. The patient friendly website offers a wealth of information on various oral health topics, from symptoms of periodontal disease to the prognosis of laser gum surgery. Patients can even use the website to compare treatments and schedule consultations for elective procedures, such as receiving dental implants in Burr Ridge, IL.
Patients with periodontal disease can utilize Dr. Denemark's website to learn about the available treatment options, including the Laser Assisted New Attachment Procedure (LANAP®), an advanced type of gum surgery. Dr. Denemark often recommends this laser gum surgery because it is effective yet only minimally invasive. LANAP® uses a special laser to guarantee accuracy while minimizing damage to healthy tissue. This often results in minimal pain and a faster recovery for patients. LANAP® also offers unique benefits, such as stimulating bone regeneration, which can help damaged teeth form a stronger attachment to the bone.
For patients who have lost teeth to gum disease or other factors, Dr. Denemark offers a number of treatment options, including dental implants. Dental implants are placed directly in the jaw bone and serve as a permanent tooth replacement. Implants do not require resizing, replacing, or special maintenance. Patients who visit Dr. Denemark to receive dental implants in Burr Ridge, IL, soon after losing their teeth may even avoid the loss of jaw bone density that occurs in the wake of tooth loss.
Dr. Denemark encourages patients to take advantage of the new website and learn more about their treatment options, upcoming procedures, and potential oral health problems. People who stay informed about their oral health and make a priority of visiting Dr. Denemark for treatments such as laser gum surgery or dental implants in Burr Ridge, IL may avoid significant health complications. Patients are invited to explore the website at http://www.drdenemark.com or call Dr. Denemark's office directly if they need to set up an appointment.
About the Doctor
Denemark Periodontal Specialists is a board certified specialist practice of periodontics providing personalized dental care for patients in Burr Ridge, IL. Dr. Paul Denemark received his Doctorate of Dental Surgery from the University of Illinois, College of Dentistry. He was a general dentist for six years prior to returning to school at Indiana University School of Dentistry to earn his Master of Science in Dentistry degree and research qualified certificate in Periodontics. Because of his expertise in dental anatomy, he was appointed as a Deputy Coroner for DuPage County, Illinois. He previously held the position of Clinical Periodontics instructor at the University of Illinois at Chicago, College of Dentistry. Dr. Denemark belongs to the one percent of dental professionals currently providing the Laser Assisted New Attachment Procedure (LANAP®), the first FDA-cleared laser procedure for gum disease and periodontal treatment. To learn more about the dental services available at Denemark Periodontal Specialists, please visit http://www.drdenemark.com or call (630) 297-4999.