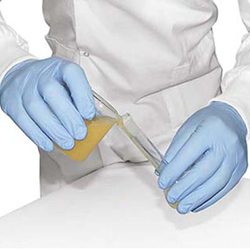 (PRWEB UK) 6 June 2014
Nitrile gloves are stronger than the average pair of latex gloves. It has been found that for a number of different tasks they are more durable, and are less likely to rip or tear; in fact they are up to 3 times more puncture resistant! When dealing with sharp needles, chances cannot be taken. Most medical and emergency services wear nitrile gloves which also have the benefit of being resistant to chemicals.
These quality products are priced fairly and are suitable for most tasks. From experience, it is wise to look at the whole picture. Could an inferior product be false economy?
Like most products, you can buy inferior quality gloves: at Vita Direct the new ultimate nitrile glove has been introduced which is top of the range and suitable for medical, food, or heavy duty mechanical industrial use.
Check out the special - Nitrile Powder free glove buy 30 and get 10 free.