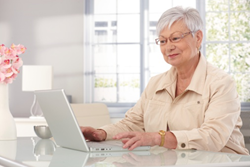 Any loss of privacy due to the monitoring is likely less than people will encounter in a nursing home, and many people are willing to trade a certain amount of privacy for independence.
Ottawa, ON (PRWEB) May 29, 2014
iWatchLife, the leader in do-it-yourself remote home monitoring, is applauding the actions of feisty 82-year-old Viola Dufresne, who refused to be a victim of her predatory home-care worker, using a spy cam to catch the woman in the act. The 54-year-old home-care worker was sentenced on Monday for stealing money from her patient's purse.(1) Ms. Dufresne's actions and attitude confirm a recent poll conducted for iWatchLife, which shows that people are increasingly open to the idea of home video monitoring to ensure their safety and that of their loved ones.
Maureen Campbell, Director of Marketing and Communications for iWatchLife, says, "We love the fact that Ms. Dufresne was empowered by video monitoring technology—technology she ordered online, mind you—to protect herself."
As reported in the Winnipeg Free Press earlier this week (1), Ms. Dufresne, who lives in Winnipeg, Canada, developed post-surgical complications in 2013 and required home care. She began to notice money missing from her wallet, and became suspicious of the home-care worker. Instead of accepting the role of helpless victim, Dufresne decided to take action. She went online and purchased a spy camera last June, and soon she had the video evidence she needed.
"I had it, I played it. . . I couldn't believe I did it!" she said, in an interview with CBC News.(2)
The spy camera footage revealed that the home-care worker had in fact been stealing from Dufresne, who estimates the total to be around $1100 over the course of six months.(2)
Ms. Dufresne is satisfied with the home-care worker's sentence, telling reporters, "My aim was to make sure she never worked again in such a situation." She added that she wanted to encourage all seniors to stand up for their rights and not be intimidated. Ms. Dufresne's daughter, Joretta Robidioux, said, "I'm proud of her. She's a crusader for honesty and justice and making a point and making change."(2)
Ms. Campbell agrees wholeheartedly. "We're on the same crusade. Video home monitoring can empower seniors like Viola Dufresne to protect themselves and their property from predators, and to remain independent longer."
iWatchLife commissioned the poll in March of this year to determine the level of public receptiveness to using remote monitoring to help elderly parents "age in place," or remain in their own homes longer. The results were promising—nearly one in three people were completely comfortable with the idea. "Our service uses bank-level security and encrypts video twice on its way to the cloud," says Ms. Campbell, "so it's completely private and secure. That's a major point for people who are thinking of using remote video to help their parents."
These poll results are relevant at a time when the elderly population is rising dramatically in the US and Canada, and in most developed nations. In the US, the number of people aged 65 and over is expected to double in the next 25 years to 72 million. The CDC predicts that by 2030, older adults will make up 20% of the entire US population. (3) In Canada, seniors are projected to make up 25 percent of the population by 2051.(4) The situation is already forcing people to seek solutions.
Tom Leger, VP of Business Development for iWatchLife, believes do-it-yourself remote home monitoring is one of those solutions. "We know that nearly 90 percent of elderly people want to stay in their own homes as they age, but at the same time, their children may live further away than ever, and are definitely busier than ever, often taking care of their own families, too. At iWatchLife, we're like everybody else—busy—and so we're passionate about technology that helps people like us cope with all of the demands on their limited time. Remote home video monitoring lets you check in on your elderly parents from wherever you are, from your smartphone or tablet, and help them stay independent."
Elderly people who choose to age in place often have a stream of strangers in and out of their homes—cleaners, home-care workers, nurses, etc. "Having the ability to make sure those helpers are showing up on time and not taking advantage of your parents gives you incredible peace of mind" says Mr. Leger. "iWatchLife is perfect for people in this situation because our price points work with any budget. Not only that, the technology is really simple to use, and takes just a few minutes to set up."
Mr. Leger points out that iWatchLife uses advanced video analytics to allow people to draw specific zones of interest within the camera's field of view. This means that the camera only records (and sends notifications) when there is activity in those zones, unlike other services that record continuously, so parents aren't on display at all times. "You can also schedule the camera to monitor only on certain days or at certain times, for example, when the nurse comes on Tuesday mornings, so that the experience is even more private."
Andrew Sixsmith, the director of the Gerontology Research Centre at Simon Fraser University in British Columbia, Canada, says that many elderly people are allowing their caregivers to monitor them so that they can stay in their own homes longer.(4) Mr. Sixsmith points out that any loss of privacy due to the monitoring is less than people would likely encounter in a nursing home, so many are willing to trade off a certain amount of privacy for independence.
Ms. Campbell believes that believes that her company's service is the ultimate gift for seniors. "It's the gift of independence—this is an emerging industry, but already we're seeing that it's a safe, ethical, and loving thing to give your loved ones, especially aging parents wanting to retain their independence."
References:
1. "Home-care worker sentenced for theft caught on senior's spy cam." Winnipeg Free Press, May 26, 2014.
http://www.winnipegfreepress.com/local/Home-care-worker-who-stole-from--260674251.html
2. "Spy cam nabs care worker stealing from 82-year-old Winnipegger." CBC News, May 26, 2014. http://www.cbc.ca/news/canada/manitoba/spy-cam-nabs-care-worker-stealing-from-82-year-old-winnipegger-1.2654564?cmp=rss
3. The State of Aging and Health in America 2013. Centers for Disease Control and Prevention. Atlanta, GA: Centers for Disease Control and Prevention, US Dept. of Health and Human Services; 2013.
4. "Use of surveillance tech to monitor seniors at home on rise." CBC News, March 9, 2014. http://www.cbc.ca/news/technology/use-of-surveillance-tech-to-monitor-seniors-at-home-on-rise-1.2535677
About iWatchLife
iWatchLife is a do-it-yourself video monitoring system that lets families remotely watch over all aspects of life—home, vacation property, contractors, even pets—from any computer, tablet or handheld device. Our unique, cloud-based, smart technology understands context, importance, and relevance of images, and notifies the homeowner anytime, anywhere when events that have been specified as being important are detected. See, monitor and share what matters from anywhere. iWatchLife brings internet cloud-based video monitoring technology to the consumer market, making it affordable and easy to use. Our service uses advanced video analytics and artificial intelligence to provide unparalleled functionality for our customers.