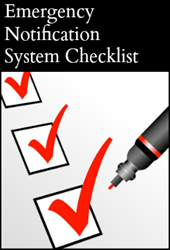 Download the checklist today to ensure your ENS will come through when you need it the most!
San Francisco, California (PRWEB) May 29, 2014
Regroup, the leading provider of Emergency & Mass Notification solutions, has recently published the comprehensive 2014 Emergency Notification System Checklist. This paper will assist organizations in evaluating the capabilities of existing systems and provide the opportunity to uncover any shortcomings - before an emergency situation and not during one.
You can download the checklist by clicking here.
The rapid pace in which technological advancements are being made means that even systems implemented a few years ago can quickly become outdated, substantially increasing the chance for an ENS failure. As all would agree, the worst time to find out an Emergency Notification System isn't capable of doing the job is during a crisis when lives are on the line.
Those responsible for issuing emergency notifications and alerts are encouraged to download Regroup's complimentary 2014 Emergency Notification System Checklist and simply take a few minutes to compare existing system capabilities against those listed in the checklist. After the comparison, you will either be confident existing systems will perform as needed during an emergency, or will have discovered any weaknesses in time to evaluate other options.
About Regroup:
Regroup, the leading Emergency Notification System, was founded at Stanford University in 2006 to solve the need the campus had for effective messaging across multiple communication channels such as mobile devices (text/voice), landlines, email, social media, websites, forums and more. Regroup stands apart from other messaging platforms with its user friendly one-click messaging, integration with social media and client databases, unparalleled reliability and unlimited text/voice/email messaging. Regroup offers 24/7/365 day a year support and saves clients money - on average 50%. Currently serving government clients such as the City and County of San Francisco, universities, non-profits and businesses throughout North America, Regroup is actively expanding in global markets.
To learn more about how Regroup's Emergency Messaging and Mass Notification System can streamline your organization's Day-to-Day communications, as well as provide rapid communications during a crisis situation, please call 917-746-6776 or email info(at)regroup(dot)com for a free customized online demonstration.