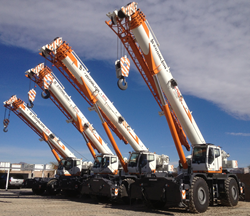 I'm proud of our line and our clients are thrilled with being able to get into a Zoomlion RT so affordably.
HOUSTON, TX (PRWEB) May 29, 2014
Global Cranes, the exclusive distributor of the Zoomlion RT and Crawler crane lines, has just created a one-of-a-kind lease to own program where 100% of the payments made go toward the purchase of one of its world-class cranes.
With special financing from Zoomlion Capital, Global Cranes is now leasing its cranes on three-to-six month plans to their U.S. clients, starting at just $5,000 a month for the RT40, a 40-US ton capacity rough terrain crane.
The RT40 is only one of a complete line of cranes loaded with features and a best-in-class chart for lifts at radius. Five models, all ANSI certified, with lifting capacities ranging from 40 to 110 US tons are available. Designed in the U.S. and built by Zoomlion, the entire line has equal or superior construction, features, and equipment compared to competing cranes, at a fraction of the cost. Now with their new lease to own program, Global is making their cranes even more affordable.
"We've been flooded with inquiries since we started our revolutionary lease to own program," said Ed Gibson, Global Sales Manager, "I'm proud of our line and our clients are thrilled with being able to get into a Zoomlion RT so affordably."
Every crane leased through this program comes with a one-year, 2,000-hour warranty. Based on the popularity of its cranes, Global has recently and dramatically ramped up its parts and service centers, increasing both the size and staff to help streamline inquiries. All cranes are available for immediate delivery anywhere in the U.S. Please call 866-278-9780 or visit http://www.globalcranes for more information.
About Global Cranes
Global Cranes, in partnership with Zoomlion, offers full lines of Rough Terrain Cranes and Crawler Cranes that meet ANSI standards and the Global team has more than 100 years combined experience in the crane industry. For more information, contact Global Crane Sales, 14902 Jersey Shore Drive, Houston, TX 77040, call 832-460-3938, email info(at)globalcranesales(dot)com, or visit the website at http://www.globalcranes.com.