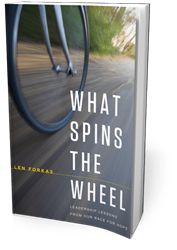 Reston, VA (PRWEB) May 30, 2014
In 2002, when entrepreneur Len Forkas learned that his nine-year-old son had leukemia, his own life changed forever. In 2003, Len founded Hopecam, a nonprofit that uses technology to connect young cancer patients with their friends at school to combat social isolation.
Turning to exercise to help cope with the stress of his son's illness, Len began competing in endurance races to raise awareness and resources to help Hopecam reach more children. In 2012, he qualified as a solo competitor in what is widely known as "the toughest bike race in the world." Race Across America is a 3,000-mile bike race from Oceanside, CA to Annapolis, MD, that must be completed in twelve days.
After fighting through the scorching heat of deserts and joint-wrenching cold of plummeting mountain roads, Len, supported by an eleven-person all-volunteer crew, finished first in his division and raised over $300,000 for Hopecam. His story is one of fatherhood and fortitude, business grit and growth - and the power of combining the right mission with the right team to help others.
In What Spins the Wheel, Len shares an inspirational story while incorporating leadership lessons on building a team to accomplish not only the almost impossible physical feat in completing Race Across America but also winning his division. Len's experience underscores the importance of both an individual and a team's commitment to something bigger than themselves.
Profits from the sale of the book will be donated to support Hopecam's work connecting children with cancer with their friends at school.
"You could read this book to profit from the management lessons Len Forkas has gleaned from riding in Race Across America. Or you could read it for its insight into a little-understood endurance sport. But the real reason to read it is for its message of dedication, resilience, and hope. You are sure to learn something from What Spins The Wheel." — Daniel Pink, author of TO SELL IS HUMAN and DRIVE