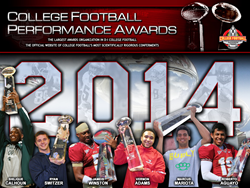 It is a great recognition -- not only for him but for the institution.
Charlotte, NC (PRWEB) May 30, 2014
College Football Performance Awards (CFPA) announces the 2014 CFPA FCS Linebacker Award Watch List. The initial watch list includes 38 linebackers, vying for the top linebacker award in the Football Championship Subdivision. All players are eligible for awards at their respective positions; players are not preemptively eliminated from consideration.
The initial watch list includes two returning CFPA winners: Kevin Kintzel (2013 CFPA FCS Linebacker Award) and Lynden Trail (2013 CFPA FCS National Defensive Performer of the Year). Trail is one of three Norfolk State linebackers to earn spots on the list. Gardner-Webb and Maine also have multiple players on the list.
CAA Football has seven representatives on the list - the most of any FCS conference. Eleven players from current CAA Football institutions have earned CFPA honors.
"I want to congratulate all those who earned spots on the 2014 College Football Performance Awards Watch List at the linebacker position," said former Dartmouth punt return specialist and CFPA winner Shawn Abuhoff. "I wish all thirty-eight linebackers the best going into next season, and I look forward to watching great things on and off the field."
Southern Utah's Matt Holley Earns Spot on Watch List:
Southern Utah linebacker Matt Holley earned a spot on the list after leading the Thunderbird defense with 110 tackles in 2013. He also contributed 13.5 tackles for loss, two interceptions, two fumble recoveries, one forced fumble, and one touchdown.
"Matt Holley is well-deserving of this honor for his hard work and sacrifice to perfecting himself as a player and teammate," said Southern Utah Athletic Director Ken Beazer. "It is a great recognition -- not only for him but for the institution."
Two SUU players have earned CFPA honors: San Diego Chargers quarterback Brad Sorensen (2012 CFPA FCS Elite Quarterback Award) and Arizona Rattlers wide receiver Tysson Poots (2010 CFPA FCS Elite Wide Receiver Award).
2014 CFPA Watch List:
CFPA will continue to announce initial watch lists each week throughout the summer. The final watch list for the FBS & FCS Awards will be announced in August.
The 2014 CFPA FCS Defensive Back Award Watch List will be announced June 2, 2014.
2014 CFPA FCS Linebacker Award Watch List:
Kourtney Berry, Alabama State
Evan Byers, Bucknell
Nick Dzubnar, Cal Poly
Quinn Backus, Coastal Carolina
Kris Kent, Colgate
Patrick Callaway, Delaware
Christian Kuntz, Duquesne
Ronnie Hamlin, Eastern Washington
Stephen Hodge, Fordham
Tanner Burch, Gardner-Webb
Chad Geter, Gardner-Webb
Eric Medes, Harvard
Nick Sigmon, Liberty
Cabrinni Goncalves, Maine
Christophe Mulumba Tshimanga, Maine
Alex Singleton, Montana State
Cody Acker, Morgan State
Austin Hasquet, NAU
Marcell Coke, Norfolk State
Deon King, Norfolk State
Lynden Trail, Norfolk State
D'Vonte Grant, North Carolina A&T
Carlton Littlejohn, North Dakota State
Dan Davis, Penn
Jerome Howard, Prairie View A&M
Mike Zeuli, Princeton
Andrew Bose, Rhode Island
Eric Wright, Richmond
Kellen Sperduto, Sacred Heart
Charles Elmore, South Dakota State
Isiah Corbett, Southeastern Louisiana
Tyler Williamson, Southern Illinois
Bishop Neal, Saint Francis U
Matt Holley, Southern Utah
Shane McNeely, UNH
Tony Bell, UT-Martin
Kevin Kintzel, Western Illinois
Airek Green, William & Mary
About College Football Performance Awards:
The goal of College Football Performance Awards is to provide the most scientifically rigorous conferments in college football. Recipients are selected exclusively based upon objective scientific rankings of the extent to which individual players increase the overall effectiveness of their teams. Twenty-eight CFPA winners have been first-round NFL Draft selections.
The full list of 2014 CFPA winners will be announced January 14, 2015.