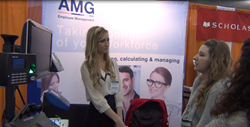 We're hoping to get some great referral partners at this show. - Tony Galstyan, President AMG Time
Los Angeles, CA (PRWEB) May 30, 2014
AMG Time will participate in the 2014 California Accounting and Business Show and Conference held each year in sunny Los Angeles. This particular annual conference is the largest in California, bringing together hundreds of certified professional accountants, financial advisors, tax professionals, large and small businesses, and a variety of industry-related businesses including AMG Time. Sporting over 20 years of successful business practices, AMG Time truly understands how invaluable accountants, as well as financial and tax advisors, are to the clients they work for and will lead the way in creating trusted relationships amongst them.
For two decades, AMG had lead the industry in creating reliable and accurate time attendance software systems to fully enable all size companies to track their employees' time and minimize payroll waste. Their expertise in this competitive field has saved millions of dollars for hundreds of companies. President Tony Galstyan is optimistic about AMG's presence at the conference stating, "We're hoping to get some great referral partners at this show." Through conference networking, AMG Time is seeking to build close relationships with those throughout the financial and accounting industries, so they may extend their systems for managing employee time not only to financial businesses but to the clients they work with as well.
Undoubtedly, the California Accounting and Business Show and Conference seeks to connect diverse people and strategic ideas surrounding the accounting industry. A company is only as strong as the accuracy of its accounting abilities, so each year businesses and executives gather to learn how to maximize their profits, utilizing the latest techniques, technology, and know-how from industry leaders.
To all conference attendees, AMG Time will proudly introduce their time attendance systems, which allow employees to track their time with fidelity through cutting edge biometric and fingerprint scanning systems. These systems reduce the rate of time theft and payroll waste, ultimately maximizing any company's bottom line. They also offer a variety of services for managing time including cloud based servers that can be accessed from anywhere in the world providing valuable safeguards for companies.
AMG Time's strong presence at the 2014 California Accounting and Business Show and Conference is sure to be felt by all.
About AMG Time
With over 20 years of industry experience, AMG Time is a national leader in time attendance products, software, and services. This innovative Los Angeles company has a passion for providing employers with time attendance systems that boost the accuracy of time and payroll records. Built upon a commitment to customize, AMG Time will design the time employee management system that is perfect for any size business.
For more information about AMG Time, please visit: http://www.amgtime.com.
For more information about the 2014 California Accounting and Business Show and Conference, please visit: http://www.flaggmgmt.com/ca/exh_services.htm.