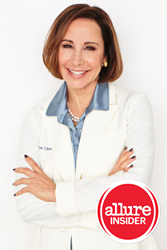 Los Angeles, Calif. (PRWEB) May 29, 2014
Today, renowned celebrity dermatologist Ava Shamban will be premiering her new show, Dr. Ava Says, on Allure's digital-video influencer network, Allure Insiders.
Allure, the beauty expert, in conjunction with Condé Nast Entertainment (CNE), is collaborating with Dr. Shamban on the show, which will air twice a month on Thursdays. She is the only medical expert currently involved in the recently launched Allure Insiders network. The show will provide viewers with access to Dr. Shamban's expertise in dermatology, and will range in topics from common conditions to the latest advances in beauty procedures.
"This is a unique opportunity for me to provide relevant information for the range of people suffering from medical conditions, such as acne and acne scarring to reversal and prevention of premature aging, in a new format that is personable and interactive in a way that prior forms of media did not allow," says Dr. Shamban. "I am absolutely thrilled to be part of the Allure and Condé Nast family!"
Allure and CNE have partnered with ten beauty-industry insiders—ranging from celebrity stylists to well-known YouTube-content creators and regular Allure contributors, including hairstylist Serge Normant and Dr. Shamban—to create original beauty content exclusively for Allure. This network will build an audience for Allure's recently launched digital-video channel through quality user-generated content.
Dr. Shamban is a board-certified dermatologist and the author of Heal Your Skin: The Breakthrough Plan for Renewal. She is an assistant clinical professor of dermatology at the UCLA-Geffen School of Medicine, has a private practice in Santa Monica and Beverly Hills, and lectures nationally and internationally. In addition to serving as a principal investigator on many clinical and FDA trials, Shamban is regularly quoted as an expert in Allure magazine, and she frequently appears on GMA, CNN, and CBS's The Doctors, among other media outlets.
Subscribe to the Shamban's YouTube channel: http://www.youtube.com/DrAvaMD
Twitter: @DrAvaMD
Facebook: @DrAvaShamban
Instagram: http://instagram.com/DrAvaSays