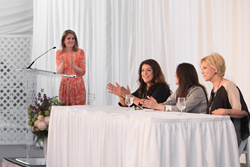 Stamford, Conn. (PRWEB) May 29, 2014
More than 300 female professionals gathered in the Stamford Hilton's Garden Pavilion on Wednesday, May 21st for Moffly Media's 7th annual Women in Business event. This year's event, themed "Inspiring Entrepreneurship," was a forum for female professionals, business owners and entrepreneurs to mingle and network, share expertise and gain insight into new opportunities.
The evening featured a cocktail reception with hors d'oeuvres and a dynamic panel of speakers moderated by News 12 Connecticut's Emmy Award – winning anchor Rebecca Surran. Panelists included: Joan Lunden, Journalist, Entrepreneur, Women's Health and Wellness Advocate, and Founder of Camp Reveille for Women; Robin Selden, Managing Partner and Executive Chef from Marcia Selden Catering and Event Planning; and Brett Galley, Director of Special Events and Co-Owner of Hollywood Pop, a Greenwich-based event planning company.
The lively discussion and following Q&A session covered what it means to be a female entrepreneur in today's business climate and spanned a variety of topics including how to balance work and family, mentorship and advice for aspiring female entrepreneurs. The panel discussion portion of the evening concluded with a special Grand Prize drawing for 18K Gold Ippolita Cascade Earrings in faceted London Blue Topaz graciously donated by Lux Bond & Green.
The Presenting Sponsor was Ella Health of Westport. Additional sponsors for the evening included: AXA Advisors, Exhale Mindbody Spa, JoyRide Cycling Studio, Lux Bond & Green, Massage Envy Spa, My Exclusive Concierge, Pure Barre of Westport, Splurge, Split Rock Aesthetic Institute, and Style By Tina. Attendees were provided with special tastings from DiMare Pastry Shop, EOS Greek Cuisine, NEAT Artisan Coffee, Collyer Catering, Palmer's Market, Susan Kane Catering, Pinkberry, Greenwich Staffing and Beluga Girls. Moffly Media donated a portion of the evening's proceeds to the Breast Cancer Alliance.
Moffly Media publishes six titles: Greenwich Magazine, Stamford Magazine, New Canaan-Darien Magazine, Westport Magazine, Fairfield Living Magazine and At Home in Fairfield County. Their titles span Fairfield County and are a trusted authority on the area and its citizens. Moffly Media's publications highlight the excellence, integrity, grace, and altruism of these extraordinary communities. Moffly Media takes their commitment to personal and civic responsibility seriously and consistently meets the high standards of the communities they serve. For more information, please visit their website at: http://www.ilovefc.com