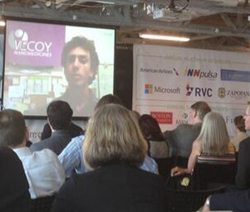 'Ten Israeli candidates were chosen from Israel to come to Boston, MA for 4 month accelerator program.' - Judit Sharon, CEO of Waltham, MA based Onset Technology
Waltham, MA (PRWEB) May 30, 2014
Governor Deval Patrick joined MassChallenge CEO John Harthorne and announced the 2014 MassChallenge Israel startup accelerator competition finalists. MassChallenge Israel is the first MassChallenge program based outside of Boston.
The MassChallenge program awards over $1 million in cash prizes to winning startups – with no strings attached. The accelerator is the first of its kind to support high-impact, early-stage entrepreneurs. Benefits include: world-class mentorship and training, free office space, access to funding, legal advice, media and over $15 million of in-kind support.
Judit Sharon, CEO of Waltham, MA based Onset Technology (makers of OnPage) said, "Ten Israeli candidates were chosen from Israel to come to Boston, MA for 4 month accelerator period. They will work here to initiate their business from June through October. The finalists include two startups in high-tech, five in health care and the life sciences, two in food-tech, and one a general category."
The 2014 MassChallenge Israel finalists are:

AutoAgronom
Trendi Guru (formerly "DCB")
DCDI
Lig – Making Legal Simple
MADbio
Myndlift
OralSave
Recardo
Vigor Medical Technologies
VoiceItt
The accelerator program will kick off with an intensive one-week boot camp of inspirational, educational, mentorship and social events designed to jumpstart the startups. During the week, the finalists learn real life lessons from successful CEOs who launched their own startups, and from investors, lawyers, and executives on how to build and grow a sustainable company. Thereafter, the entrepreneurs can pick and choose from an array of events to accommodate their interests.
Governor Patrick attended MassChallenge Israel as part of a trade mission designed to bring together hundreds of American and Israeli academics, business, government, health care, and technology leaders, and help grow the Bay State's economy. According to a report by the New England-Israel Business Council, Israeli-founded companies operating in Massachusetts booked $6.2 billion in revenue in the state in 2012 and employed nearly 6,700 people.
The Patrick Administration's goal is to strengthen Massachusetts' global economic partnerships by enabling top-tier startups access to global markets and connecting them with the very best resources and organizations in the Bay State's entrepreneurial community.
"Massachusetts is home to an amazing array of startups and our entrepreneurial ecosystem is one of the strongest in the Nation," said Governor Deval Patrick. "Through programs like MassChallenge, Massachusetts is able to extend an open invitation for the world's highest-impact, highest-potential startups to grow their ideas in our Commonwealth."
Now in its fifth year, the MassChallenge competition based in Boston has supported 489 startups, created more than 4,000 new jobs and raised $550 million in outside funding and generated $350 million in revenue.