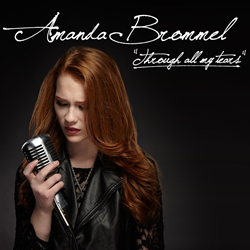 Addison, Illinois (PRWEB) May 29, 2014
Chicago based 13 year old pop music artist Amanda Brommel has her first new song "Through All My Tears" released on Big Chance Records. The debut digital single was co-written and produced by songwriter/producer and Grammy member ROBERT MACKEY of the international rock band AVM. The track was recorded at SONGWERKS studios in the Chicago suburb of Addison, Illinois. The digital song is distributed worldwide via download by CD Baby and iTunes along with her official music video on YouTube.
"She has a one in a million voice that sounds mature beyond her years and she writes her own lyrics," says 25 year music veteran and co-writer Robert Mackey who has co-written with Grammy award winning people like Jim Peterik (Eye Of The Tiger) and the late country music hall of famer Joe South (Hush, Rose Garden). Most recently Mackey collaborated with Grammy award mixing legend Dave Pensado (Michael Jackson, Kelly Clarkson, Elton John, Pink) in L.A.
"With this song we went with a production style similar to Taylor Swift because of the popularity of the genre. I'm sure that this song will resonate with both Pop Music and Modern Country fans," says Mackey. "But stylistically her writing is very adult contemporary and we are working on some songs that sound a bit like Adele, Dido and Suzanne Vega. In a few years at most people worldwide will know her voice and name."
https://soundcloud.com/amanda-brommel/through-all-my-tears