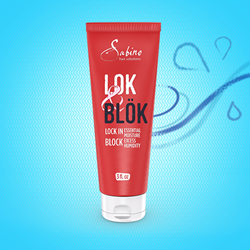 I have been using this product for ten years..it is a must have for me!
Phoenix, Ariz. (PRWEB) May 29, 2014
Savvy marketers know better than to change their packaging or branding without involving their customers in the update. By breaking through the fourth wall, Sabino's marketing and Greative went directly to existing customers to see what made the most sense for them. This type of approach shows how social media and real-time, interactive marketing can have a huge impact on the direction in which companies take their branding — and whether or not that move is successful.
Feeling it was time to bring their products into the 21st century, Sabino Hair Care recently embarked on an update to its branding. "Lök & Blök has a loyal following, and we didn't want to lose them, but we also wanted packaging that would attract new eyes. So we went right to our customers to ask them for their feedback," shared Sabino's spokesperson.
Previously delivered in a red bottle with a pump, Lök & Blök's design required a plug in the pump to keep it from drying out. While the company wanted to keep an easy-to-use dispenser, they knew they needed something more practical. With some initial ideas in mind, they went to their customer base.
Reaching out through social media and their opt-in newsletter, Sabino solicited feedback from customers. What they learned was that their users wanted a modern design that retained the original red color with horizontal text. They wanted to have easy access to the anti-frizz serum inside, and they preferred packaging that was semi-transparent to see how much product remained inside. Some consumers even shared personal stories: "One lady told us she has arthritis, and it was too hard to get the product out of hard plastic bottles. She was one of the reasons we used softer plastic to make dispensing easier," said Sabino's spokesperson.
Sabino was able to incorporate all of the main desires their customers requested, but even knowing what they wanted would have been much more difficult without social media and interactive marketing channels. Sabino's spokesperson said, "This was a great experience for us, and I think that more companies should consider reaching out to their customers to get their feedback. Without it, they're essentially flying blind. Why not ask the questions and move forward in a direction you know will work?"
The results of Sabino's packaging update can be reviewed at http://www.greative.com/portfolio-item/sabino-lokblok-product-redesign/. Lök & Blök and all of Sabino's products are available on their website at http://www.sabinohair.com/.
About Sabino Hair Solutions:
With products formulated by Victor Sabino, a veteran hair designer, Sabino Hair Solutions is a leader in delivering anti-frizz serums and products. The company is headquartered in Phoenix, Ariz., and serves customers around the globe.