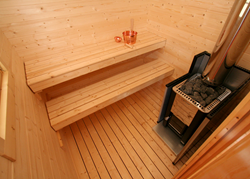 Rennic, WV (PRWEB) May 29, 2014
Almost Heaven Saunas is inaugurating an exciting new, outdoor wood-burning sauna model, the Allegheny, in June. "This traditional outdoor wood-burning sauna embodies all that the authentic sauna was meant to be," said Rick Mouw, president of Almost Heaven Saunas.
The Allegheny is a full-size sauna room with ample seating, including both a low and high bench, which allows the sauna user to experience different temperatures in the sauna. The construction is a log-cabin design, using high-grade Nordic Spruce timbers that are notched for a perfect fit. The porch and windows provide added charm to the sauna, so that the Allegheny can enhance any backyard setting.
The sauna comes complete with room, benches, windows, roof, shingles, heater, chimney, stones, hardware, and a deluxe accessory kit including copper bucket and ladle.
Finnish Manufacture
The Allegheny is specially manufactured for Almost Heaven Saunas by Harvia, OY, a world leader in exceptional sauna designs. The Finland-based Harvia has designated Almost Heaven Saunas as an official American distributor of its sauna rooms and heaters. Almost Heaven Saunas will market the Allegheny through online distribution channels like Amazon and Wayfair.
The sauna includes a wood-burning heater by Harvia, which is known worldwide for its high-quality sauna products. The Allegheny can reach temperatures approaching 200 degrees F, using any type of heating wood preferred; soft woods will heat faster, and hard woods will heat hotter. Water can be sprinkled on the hot rocks for a burst of steam that engulfs the entire sauna room. The sauna will easily reach sauna temperature in any climate and is designed to handle snow-load.
Easy to Assemble
The Allegheny sauna is easy to assemble, and two people can put it together in less than weekend, or 12-16 hours. The exterior of the sauna can be left natural to weather with age or can be treated with an exterior stain of the owner's choosing. The unit can rest on paver stones, cinder blocks, or any firm surface that provides stability and keeps the support timbers from settling into the ground. Maintenance involves nothing more than a periodic washing of the benches and cleaning the ashes from the firebox.
"We want our customers to enjoy the substantial health benefits provided by sauna while enhancing their favorite relaxation or entertainment area with an attractive, high-quality sauna room," said Mouw. "The Allegheny is the perfect addition to a backyard, hunting cabin, or vacation home, and it will provide a lifetime of healthful enjoyment and relaxation."