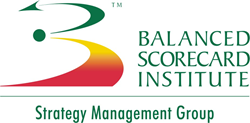 Cary, NC (PRWEB) May 30, 2014
The Balanced Scorecard Institute (BSI) announced that it will be partnering with UK-based business performance management consultancy Intrafocus to provide Balanced Scorecard Professional certification courses in the UK and Ireland. The two courses that will be offered include the five-day Balanced Scorecard ProfessionalTM (BSP) Certification Boot Camp and the five-day Balanced Scorecard Master ProfessionalTM (BSMP) Certification Application course.
The BSI program, offered in association with the George Washington University College of Professional Studies, is the premier worldwide certification for Balanced Scorecard practitioners and has over 1,800 alumni worldwide since its founding in 2006. It is already offered in dozens of locations around the world. The program focuses on balanced scorecard-based strategic planning and management using BSI's Nine Steps to SuccessTM methodology. It was developed by BSI for executives and members of balanced scorecard teams who want to learn how to build, deploy, and sustain scorecard systems in order to improve organizational strategic performance, focus and alignment. BSI training is for anyone who wants to incorporate lessons learned and best practices into the development of a strategic management process, or for anyone who has an existing scorecard and wants to turn it into a robust strategic planning and management system.
"We are delighted to partner with Intrafocus," said Howard Rohm, BSI Co-Founder and CEO. "They have brought a new dimension to our courses through their local expertise and existing knowledge of our methodology."
Intrafocus is a business performance management software reseller and consultancy. It has invested heavily in lighter-footprint performance management software and training. It has promoted the QuickScoreTM product, also marketed by BSI, for years as an easy-to-use, web-based tool to examine and manage performance data effectively.
About the Balanced Scorecard Institute:
The Balanced Scorecard Institute, a Strategy Management Group Company, provides strategic planning, balanced scorecard and performance measurement and management training, certification, and consulting services to government, non-profit, and commercial organizations. Services include public and on-site courses, facilitation and consulting services, and information and tools used by executives, managers and analysts to transform their organizations into "performance excellence" organizations.
BSI's website-- http://www.balancedscorecard.org --is a leading resource for information, ideas and best practices on strategic planning and management, performance measurement, and balanced scorecard systems. BSI's Nine Steps to Success™ balanced scorecard framework integrates strategic planning, budgeting, operational planning, performance measurement and strategy execution into a disciplined framework for helping organizations achieve higher levels of performance.