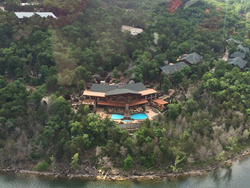 Exceeded our hopes and dreams. -Lee's Summit
Table Rock Lake, MO (PRWEB) May 28, 2014
Stonewater Cove Resort and Spa presents a limited time offer of 20% off weeklong stays (6 or more nights) for travel from June through November 2014. Set upon nearly 500 acres of forested foothills and an almost 900 miles of shoreline lake, the resort's variety of activities and amenities provide opportunities for guests to customize each stay with as much leisure, wilderness exploration, or adventure as desired. In addition to enjoying savings for a longer stay, guests will discover what it means to fully unwind and "disconnect" from it all (cell phones, video games, etc.), all the while reconnecting with nature and each other in a place with something for everyone. Now even more non-guided activities are included with the standard rates as the resort presents a new mini-golf course onsite this summer.
Stonewater Cove will feature the following special for travel throughout the entire 2014 season, but guests must book the offer before the end of June to enjoy the savings:
Weeklong Special (2014)
*Stay for 6 or more nights and receive 20% off a Full American Plan stay (accommodation, full board, *valet parking, turn-down service, wireless internet, use of core resort amenities, and all non-guided activities for 2 guests)
*Luxury King or Double Queen Room starts at $428 per night for 2 guests
*Additional guest charges also receive 20% off
*A 15% service charge and 5.975% tax will be applied to all resort charges
*Valid for stays from June 1st – November 30th, 2014
*Book by June 30th
Stonewater Cove is a Full American Plan resort where all stays includes luxury accommodation, full board, snacks, hors d'oeuvres per the Chef, non-alcoholic beverages, valet parking, wireless internet, nightly turn-down service, use of resort amenities and all non-guided activities; pool, hot tub, swim dock, lounge, bar, media room, swimming toys, towels, life vests, movies, games, canoes, kayaks, dock fishing, hiking trails, bocce ball, and mini-golf.
For those travelers looking to add a little more to the vacation, the resort also offers a variety of a la carte Treehouse Spa services and guided, outdoor adventures such as zip line experiences, ATV tours, Ranger tours, leisure boat rides, sunset/moonlight cruises, and water sport excursions; wakeboarding, kneeboarding, skiing, and tubing. These a la carte, guided activities are usually scheduled at least two to three times per day, weather permitting, and can be decided upon (if any) while at the resort. Scheduling prior to arrival is recommended for only Treehouse Spa Services, Professionally Guided Fishing Trips, Helicopter Tours, and Transportation/Car Service.
Hidden in the fresh air of the national forest, on the quiet side of the winding James River arm of Table Rock Lake, guests are able to set their own pace. From early to late risers choosing the best meal times for the day, to embarking on an ATV tour in the morning when the forest is most alive and fresh, to lounging by the pool and talking about who has the better bass fishing skills, the resort staff is eager to match the experience to every individual's wishes for the ideal vacation. From a city-slicker afraid of bugs to an avid spelunker with no fear of the great outdoors, Stonewater Cove has all the luxury amenities such as high-end boats and rainfall showers plus upscale comfort dining and myriad opportunities for fun and exploration to please all walks of life. With the addition of a new mini-golf course complete in time for summer, travelers can now mix and design unique vacations with one more activity on the outdoor fun list for 2014.
Stonewater Cove recently earned recognition in The 10 Most Luxurious Lake Resorts (therichest.com) and 45 Midwest Resorts We Love (midwestliving.com), and continues to be rated 5 stars on TripAdvisor.
For more information about Stonewater Cove Resort and Spa, or to make a reservation, please visit the website at stonewatercove.com or call (800) 792-3956 or (417)858-2563.
About Stonewater Cove
Nestled in the Ozarks of southwest Missouri, in the heart of the Mark Twain National Forest, Stonewater Cove Resort and Spa overlooks the clear, deep waters of Table Rock Lake, known as one of the clearest freshwater lakes in the world. Each of the resort's individually designed rooms features upscale amenities, custom made wood furniture and attractive coffered ceilings, with special touches that create an elegant, rustic ambiance. This nearly 500-acre outdoor playground offers endless ATV to hiking trails, luxurious boating excursions, and adventure outings like zip-lines and slalom skiing. This luxury resort in the Midwest is a member of the prestigious Kiwi Collection, The Luxury Group, and Elite Meetings.
(High resolution images available upon request.)