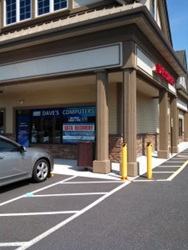 Hillsborough, New Jersey (PRWEB) May 29, 2014
Even though technology plays a major role in our daily lives, there are still people out there that have no idea how to properly use a personal computer. Even daily tasks such as checking e-mail, downloading music, and especially troubleshooting the computer are completely out of their reach. For years, these types of people have resorted to calling their friends and family to guide them through using the computer via the telephone or showing them in person. Most people do not have time for this, and David Molnar – owner of Dave's Computers – knows this.
Molnar knew there had to be a better way. Instead of relying on friends and/or family to provide them with basic computer help, Molnar created a service that allows the computer illiterate to obtain the help they need for a flat monthly rate. In a sense, anyone can have access to their own personal computer guru to guide them through basic computer-related tasks.
"While it's always a nice gesture to help Grandma Esther or Uncle Bobby with their computer troubles, most people do not have the time – or want to spend the time – helping their loved ones use their computer properly," said David Molnar, founder of Dave's Computers. "That's why we have created a flat fee service that allows anyone to reach out to a member of our native English-speaking team and obtain top-quality tech support anytime from 8 a.m. to 11 p.m. EST 7 days a week.
"We also offer a yearly subscription to our on-demand tech support as well," continues Molnar. "For those that know they will want on-demand access year-round, this is the best route to take as we offer a discount fee upfront."
Dave's Computers also offers instantaneous live chat support and a maximum response time of just 15 minutes for support requests sent via email.
"I know how annoying it can be whenever you need an answer right away, but you can't get it. That's why at Dave's Computers, we guarantee that we will answer any question within 15 minutes. Have a question about using iTunes? A question about using Outlook? No matter what type of question you may have, we'll respond within moments and find an answer for you."
The days of loved ones having to take time out of their day to provide basic computer help for friends and family is over – and it's all thanks to Dave's Computers! Curious about a subscription to Dave's on-demand tech support service? Give Dave and the fine team at Dave's Computers a call today: 908-428-9558
Once you do, you won't be able to look at tech support the same way again!