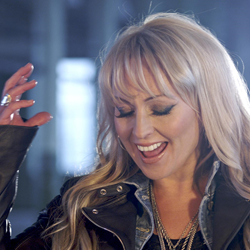 London (PRWEB UK) 31 May 2014
The North Country Rock singer/songwriter Rebecca Bains, recently released the music video to go alongside the launch of her debut single 'Hard Road'. The video features Rebecca and her band with the single paving the way to her upcoming debut album.
The video has performed extremely well on various media outlets and is gaining a lot of attention from music fans. Filmed locally to where Rebecca hails from near and actually on the rolling Yorkshire moors, she and the producers wanted to capture the place and the people that inspired the song.
"I grew up in Yorkshire. I've heard people who haven't been before say they thought it was just industrial towns. Sure, there are industrial towns but Yorkshire is also home to beautiful countryside that's featured in so many classic novels. There are miles and miles of moorland, beautiful but also very isolated and desolate. I've spent so many nights driving back over the moors in the early hours to get back home from gigs and making those journeys alone I'd often feel that isolation, and as beautiful as it is, I was always pleased to get through it and reach home safely. Those journeys were often made in really bad weather and at the time I was working full time and studying too, so I was often driving on very little if no sleep at all. They could be difficult journeys sometimes."
Rebecca describes her home county with great adoration and it is evident she has an earthiness and a strength drawn from those surroundings. In the song 'Hard Road' she refers to the road back home from a fairy tale world in which happiness and success wasn't always easily obtained.
"I lived with my grandmother and she always waited up for me to come home, usually having made rice pudding or something else warm. Some of the work, the gigs and shows I was doing were very glamorous. It could have been really easy to get carried away and forget who I was, but my Gran made sure my feet were always firmly on the ground. She was a tiny lady, but one of the strongest willed and big-hearted people. Being successful in any industry is so hard, and it can often beat you, but coming home to someone without agenda, and with only love for you is one of the most wonderful things a person can have," Rebecca said.
Rebecca worked with a team made up of international and local filmmakers on the shoot but a freak weather turn nearly cost the whole shoot.
"We had these great ideas and drew up a storyboard involving some shots of me standing by the road that I used to drive on to get home, but as we started to shoot, the weather turned and snow started to come down fast. Before we knew it, there was a blizzard. The car we were using had the top down and when we pressed the button to take it back up it wouldn't work!" Rebecca said, laughing. "We'd got some driving shots but the weather was so bad I'd had to pull over and as I did the wheels got stuck in the snow. We had all this equipment set up which had taken ages, and within about 10 minutes the whole lot had to be cleared away in the midst of this snow storm. We couldn't see a hand in front of us and I'm sitting there in this beautiful open top car, literally freezing, thinking this actually used to be one of my worst nightmares when I used to drive this way home in bad weather."
The video has been positively received across numerous websites, including YouTube, where it's already got over 26,500 views and is popular on Vimeo and Muzu.tv. It is also featured in Maverick Magazine, the UK's leading independent country music magazine, in their Maverick Tube video section.
"There's been some really great feedback about the song and the video and we're really grateful people have taken the time to listen and watch and we're so pleased too how the single is doing. It means so much to us," said Rebecca of her and the band.
About Rebecca Bains
Rebecca Bains is a singer songwriter bursting on the music scene with a sound that combines elements of country, pop and rock. Her songs are full of catchy melodies, provocative lyrics and the soul in her voice comes through in a musical style that marries all this in her own compositions. Whether a haunting ballad or 'bar brawl' rock, her unique sound shines through in every note.
Born in Yorkshire to a working class family, Rebecca is extremely proud of her heritage. Her mother and grandmother were Opera singers, and her father was a musician too. Rebecca's influences are diverse. There is a list of artists she admires and for a host of different reasons: Bob Dylan, Bruce Springsteen, Johnny Cash, Kate Bush, Muse, Coldplay and Pink are just a few in the list of artists who have had a direct and lasting impact on her musical style.
Rebecca's music does seem to carry a unique message of light and her live performances are uplifting events. She is also a patron of a dog charity and takes her staffy rescue dog everywhere with her. Her single 'Hard Road' is out now and various tours are planned to coincide with the release.
For more information see http://www.rebeccabains.com.