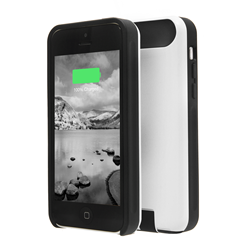 Dallas TX (PRWEB) May 29, 2014
Smartphone owners who shun their Android allegiance in exchange for an Apple device tend to favor the more affordable models like the iPhone 5C. Mobile accessories manufacturer LifeCHARGE captures this growing segment of the smartphone population with the launch of a new battery case. The LifeCHARGE battery case for iPhone 5C was designed exclusively for the cheaper Apple phone model, making it a rare breed in the marketplace.
A recent Yahoo! News (http://news.yahoo.com/mostly-android-deserters-buy-cheap-iphones-181016544.html;_ylt=AwrBEiLxyHxT3DYAN73QtDMD) article revealed that "It's mostly Android deserters who buy cheap iPhones." More specifically, during the second quarter of fiscal year 2014, "60% of iPhone 5C buyers ditched Android smartphones to purchase an iPhone."
LifeCHARGE wants these new iPhone owners to get the most out of their Apple experience, regardless of how little they paid for their phone. To that end, the company recently added a battery case to its inventory that was designed specifically for the iPhone 5C model.
For more information about how the LifeCHARGE iPhone 5C battery case can help former Android phone owners get the most out of their Apple experience, contact OnTrion's Jesse Khurana. To learn more about the battery case, visit the manufacturer on the web at http://www.mylifecharge.com.
###
CONTACT INFORMATION:
13650, TI Blvd., Suite #309
Dallas, TX 75243
(877)676-0877