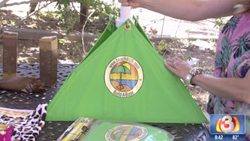 The timing could not have been better. - Bill Schermerhorn
Colfax, NC (PRWEB) May 30, 2014
Recently, beachBUB USA was featured on three Fox TV affiliates in Phoenix, San Antonio and Baltimore. These highly populated cities are all within driving distance of coastal beaches. The media is capitalizing on the uniqueness of beachBUB USA's newest launch, beachBUB® (Beach Umbrella Base). Valery Ladato, Lifestlye Coach explained during her live presentation during the Lifestyle segment on Phoenix FOX 3 "it will stay" when highlighting the 42MPH wind test. On Baltimore FOX 45 Glen Clark focused on the uniqueness and ease of use "it's really cool and very simple and it's easy to take to the beach". Executive Producer, at Phoenix FOX 4 in San Antonio Erica Guevara mentioned numerous features and benefits, "It's super portable and simple". One of several, "Producer Picks," she told the viewers, "I love this idea," and the beachBUB® gives you, "fabulous shade in the sun." The simplicity of the design and concept makes presenting the beachBUB® very easy to present and write about. beachBUB USA sent all three Fox affiliates a store display which were used to demonstrate to viewers what the beachBUB® looks like when it's filled with sand.
Morning news channels are not the only media outlets that are capitalizing on the interesting and timely storyline. The Naples Daily News highlighted beachBUB® with a half page article on the front page of their business section. They also teased their readers with a highlight on the front page. "The timing could not have been better," said president Bill Schermerhorn. "Segments and articles which feature seasonal trends have become very popular and generate a lot of interest from a viewer's perspective and we wanted to capitalize on their effectiveness."
BeachBUB® saw a 250% increase in internet activity and a 622% increase in internet orders following the Memorial Day weekend TV segments and news article. "We feel that as more beachgoers get closer to their planned beach trips they will be paying attention to those popular seasonal segments on TV and in Newspapers which inform them about new products that will make their vacations more enjoyable and memorable," continues Schermerhorn. "These stories are low hanging fruit for beat reporters that generate spikes in viewer and readership for their companies."
About beachBUB™ USA:
beachBUB™ USA is a family owned and operated company based in Colfax, NC and envisioned in Naples, FL.
Marketing/Sales Contact:
Lucy Schermerhorn
http://www.beachbub.com
336-580-0189