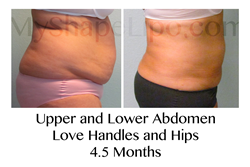 If there is fat that you'd like removed, liposuction is a far better choice.
Las Vegas, NV (PRWEB) May 30, 2014
A flat stomach is a goal for most, yet a reality for few. In the past, the tummy tuck was the most recommended procedure for women looking for a flatter stomach following their pregnancy. With advances to liposuction techniques, these same women now have better options to achieve their goals. There are pros and cons with every procedure, and the tummy tuck has many drawbacks, which leaves a great opportunity for those seeking something better.
MyShape Lipo is a specialty liposuction clinic located in Las Vegas, NV and their specialist Trevor Schmidt PA-C has the experience of over 15,000 liposuction procedures. Abdominal liposuction is by far the most popular treatment area for both men and women. They have noticed a steady increase in women choosing liposuction over tummy tuck more often the past few years and the rate is hitting an all time high as we approach summer.
Debbie Stedman is a 45 year old women who recently chose to have abdominal liposuction despite the recommendations of her plastic surgeon. "I was so tired of that belly pouch that I've had for nearly 8 years since my last baby," she says. "I really didn't want that huge scar from a tummy tuck. My belly is now flat and I have no obvious scars thanks to liposuction."
"The tummy tuck is great if you only have excess skin, but if there is fat that you'd like removed, liposuction is a far better choice," says Schmidt. "I can't imagine why someone would subject themselves to the large scars and difficult recovery when there are better proven options."
Five Reasons Liposuction is The Best Choice:
Safety
With most surgeries, the greatest risk is usually general anesthesia as well as the risk of infection. Liposuction has proven to be a significantly safer procedure when compared to tummy tuck. Since liposuction can be done entirely under local anesthetic, the risk of general anesthesia is completely eliminated. The incisions are also very small which decreases the potential risk of infection. In fact, the infection rate at MyShape Lipo is only .01% which is far below the national average of 1%.
Recovery
Since the incision for a tummy tuck extends from hip to hip, the recovery is much more extensive and can keep the patient in bed for over a week in some cases. On the other hand, liposuction recovery is quick and easy. Most people describe the soreness after liposuction comparable to a tough workout. From statistics kept at MyShape Lipo, 84% of their patients are able to return to work within 3 days.
Scars
Liposuction is hands down a better option when compared to the scars of the tummy tuck. The scars from lipo are merely 2mm in length and can be hidden in inconspicuous, less visible areas. In fact, many patients claim they can't find their scars 2-3 months following their procedure. In comparison, the scar from tummy tuck extends the entire front of the abdomen from one hip to the other. The scars also tend to be very thick and obvious.
Results
The results from both procedures can be good, and each have reasons they may be superior. Liposuction is a great option for those looking to significantly reduce the volume of fat around the abdomen to achieve a flatter, trimmer waistline. The tummy tuck is a good option when the primary goal is removal of skin. Those that have an abundance of fat on their abdomen will get limited results with tummy tuck. Similarly, those with an abundance of loose hanging skin will have limited results with liposuction.
Cost
While the cost of each will vary widely, most will find that the cost for liposuction at MyShape Lipo will be much less than the cost for tummy tuck. Since liposuction can be done exclusively under local anesthesia, there is substantial savings with the cost of general anesthesia, hospital fees and anesthesiologist fees are completely eliminated.
About MyShape Lipo
Trevor Schmidt PA-C the Liposuction Specialist at MyShape Lipo has the experience of over 15,000 liposuction procedures. With simple affordable pricing and extensive experience, they have been able to attract patients from around the world for their services. For a complimentary "Body Shape Analysis" call today 702-818-5476.