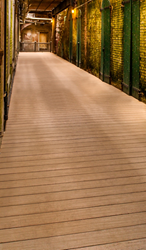 ChoiceDek's ability to withstand the Bay Area's weather, spilled drinks and foot traffic made it a perfect choice for the China Alley Boardwalk.
Springdale, AR (PRWEB) May 30, 2014
In 1973, Alcatraz Island opened to the public as a part of the Golden Gate National Recreation Area. The infamous federal penitentiary quickly grew into one of the most popular park service destinations, and now attracts close to 1.5 million people per year.
For the National Park Service, maintaining the island's historic structures for the approximate 4,000 daily visitors is no easy task. The moisture-laden bay air and marine waters that separate Alcatraz Island from the San Francisco peninsula are harsh on building materials. Constant foot traffic and corrosion tax surface materials such as floors, decks and building siding.
In support of the National Park Services material upgrade plans to preserve the island's historic buildings, Lowe's offered them a $50,000 grant to purchase any needed materials at a Lowe's store. The restoration plans for the grant included extending the site's China Alley Boardwalk by 100 feet, and updating the ADA ramps at the Warden's office and the Visitor's Center.
The China Alley Boardwalk is located just outside the visitor center, and hosts thousands of pedestrians each day. As such, installing a durable, stain- and water-resistant material was crucial to ensuring the boardwalk's long-lasting beauty. To meet these multiple needs, ChoiceDek® Foundations™ composite deck boards were chosen.
ChoiceDek Foundations' unique manufacturing process encapsulates wood fibers in polyethylene plastic. The wood fibers contribute strength and stiffness, while polyethylene plastic provides moisture resistance, enabling the deck boards to resist stains, mold and mildew. The decking is so resistant to moisture that it can be installed on the ground, in the ground or even underwater without voiding the warranty. These benefits help ensure greater longevity of the surfacing in even the most demanding environments.
"ChoiceDek's ability to withstand the Bay Area's weather, spilled drinks and foot traffic made it a perfect choice for the China Alley Boardwalk," said Scott Spencer, ChoiceDek National Account Manager. "It enabled the National Park Service to extend the boardwalk without worries of degradation."
Due to the success of the China Alley Boardwalk, plans have been developed to update the two ADA ramps with ChoiceDek decking as well. While these projects have been stalled due to the large number of people using the current ramps, they are expected to be complete in the near future.
To go from Alcatraz to your own backyard deck-escape, install ChoiceDek wood-plastic composite decking in outdoor projects. The deck boards can be used in virtually any non-structural application, including projects like docks, pools and hot tubs where the decking is in contact with the ground or water. They can also be ripped, routed and bent to create eye-catching curves and artistic statements. ChoiceDek decking products are composed of 95% total recycled content, helping keep pre- and post-consumer plastic materials such as packaging films and shopping bags from ending up in landfills.
ChoiceDek decking and railing is manufactured by Advanced Environmental Recycling Technologies, Inc., (A.E.R.T.). It is available in three attractive colors, with realistic embossed wood grain patterns, and is sold exclusively at Lowe's Home Improvement stores.
To learn more about ChoiceDek composite decking, visit http://www.choicedek.com or call (800) 951-5117.
About Advanced Environmental Recycling Technologies (A.E.R.T.)
Advanced Environmental Recycling Technologies, Inc., (A.E.R.T.) is a microcap, entrepreneurial, publicly held manufacturing company. The development of new technologies and patents has enabled it to produce superior new products from recycled wood fiber and recycled polyethylene plastic for the building and construction markets. A.E.R.T. is the exclusive manufacturer of ChoiceDek® and MoistureShield® composite decking products.