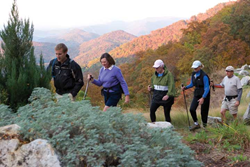 The new generation of retirees wants a gentle four season climate, an active lifestyle, quality healthcare nearby, and easy access to a major airport, all of which this region offers.
Libertyville, IL (PRWEB) May 29, 2014
When relocating at retirement, today's Baby Boomer home buyer is looking for a location that offers an active lifestyle, diverse cultural and educational opportunities, and abundant dining, entertainment and sporting opportunities. They also seek out towns with strong, diverse economies and access to excellent healthcare. The following 5 major markets in the Southeast tick off all the boxes in most of these categories and have attracted an influx of retirees in the last decade as a result.
"Tennessee offers rolling topography, great recreational lakes, and the biggest draw – no state income tax for residents," said Marian Schaffer, Principal and Founder of Southeast Discovery, a company that helps buyers actively looking for a retirement or second home in the Southeast find the right area and community to call home. "The Western Carolinas offer a plethora of activities for those who enjoy the great outdoors, along with sophisticated cities like Greenville, SC, and Asheville, NC with its unique restaurants, microbrewies, and art galleries."
Nashville, TN: Music City USA is home to Vanderbilt University with its diverse continuing education options and collegiate sporting events. Excellent medical care is available through Vanderbilt University, and downtown's Honky Tonk district provides daily musical entertainment year round. Nashville's downtown condo development is going strong, attracting empty nesters and young professionals to a thriving downtown. Pharmaceutical and medical companies and the recession resistant music and entertainment industry make Nashville's economy a robust one, fostering a stable real estate market with quality neighborhoods and developments built to attract relocating retirees.
Knoxville, TN: This East Tennessee town, home to the University of Tennessee, does football big, and has one of the largest collegiate football stadiums in the U.S. Knoxville is known for its friendly and welcoming atmosphere, and offers multiple outdoor recreation opportunities such as boating, golf and hiking. Seven recreational lakes are within an easy drive from downtown, and the city is surrounded by rolling topography with the Blue Ridge Mountains in the backdrop. Tennessee has no state income tax and an overall lower cost of living compared to the national average, and enjoys a robust economy with thriving industries like health care, automotive suppliers, renewable energy services, and food manufacturing.
Lake Oconee, GA: 19,000 acre Lake Oconee has been the centerpiece of this North Georgia area's growth over the past 25 years. Located just over an hour east of Atlanta, residents in the Lake Oconee area enjoy several amenitized developments along the lake. Lake Oconee provides a relaxed, non-congested atmosphere for retirees who want to live away from the urban sprawl, yet within easy driving distance of a major metropolitan area. The Lake Oconee area is an ideal location for families with its excellent schools and abundant family-friendly outdoor recreation activities. Baby Boomers who are looking for high quality amenities, proximity to a major city in the Southeast, and a resident blend of all ages will find Lake Oconee, GA an ideal place to retire.
Asheville, NC: Picturesque mountain scenery surrounds this Western North Carolina city. The University of NC at Asheville offers one of the most comprehensive continuing education programs for retirees, and outdoor activities such as hiking, fly-fishing, and white water rafting abound in the area. Asheville has a well-earned reputation as a serious foodie town due to its eclectic assortment of restaurants and its farm-to-table ethos, which focuses on using fresh ingredients from local farmers. Asheville is also known as "Beer City USA," thanks to the presence of 18 local craft breweries, offering more breweries per capita than any U.S. city. Clean air, clean water, fine restaurants, and all the outdoor activity one could ask for make Asheville, NC an easy choice for the health conscious Baby Boomer.
Greenville, SC: Located one hour south of Asheville, Greenville offers a spectacular downtown ten years into a 25 year master-plan concept. A decade into the transformation, Greenville has landed on many "Best Of" lists, becoming a dynamic place to work and a desirable destination for dining, shopping and entertainment. The city attracts both young professionals and empty nester Baby Boomers seeking the benefits of city living without the inconveniences of residing in a large metropolitan area. Greenville is the fastest growing city in South Carolina and is home to more international manufacturing investment per capita than any other community in the U.S. Greenville's largest employers include BMW, Michelin, GE, Fluor and Lockheed Martin, all of which have facilities or headquarters in the area. With major universities surrounding Greenville, the city is also an ideal location for Baby Boomers interested in continuing education and other cultural opportunities living in a college town offers.
"Here at Southeast Discovery, we're seeing retirees migrating to this mid-Southeastern region from all parts of the U.S. I attribute this to the fact that this new generation of retirees wants a gentle four season climate, an active lifestyle with quality health care nearby, and easy airport access – all of which this region offers," said Schaffer.
About Southeast Discovery
Since 2004, Southeast Discovery has been a trusted resource for candid information and insight on communities, developments, and general real estate in the Southeast. Through its highly-ranked web portal, newsletter and blog and its one-on-one work with clients, Southeast Discovery helps buyers actively looking for a retirement or second home in the Southeast navigate the process of identifying the right area and community for their needs. To learn more, visit http://www.southeastdiscovery.com/.