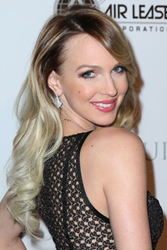 "Who wouldn't want to go on a hunt for Sasquatch?" says Bently
Hollywood, California (PRWEB) May 29, 2014
Christine Bently is currently shooting her latest film in Birmingham, Mobile, and Cheaha State Park in Alabama. The movie, Nigel and Oscar vs. Sasquatch, is about two uber geeks, Nigel and Oscar, who want nothing more than to capture definitive evidence of Sasquatch. "Who wouldn't want to go on a hunt for Sasquatch?" says Bently who plays a tomboy hippie with a dry sense of humor who gets dragged into the adventure.
Christine plays opposite of an established cast of comedians including Neil Flynn, Tim Meadows, Paul Britton, and Adam Herschman. "I always find myself hilarious, so working with such talented comedians who actually laugh at my jokes makes me feel like I am doing something right… right?"
Christine was thrilled to join such a fun project after getting booked as a recurring role on Mark Wahlberg's new show Ballers starring Dwayne Johnson that will premiere on HBO. Ballers chronicles the lives of several Miami-based active and retired athletes.
In addition, Christine has recently appeared as a guest star in the season finale of Drop Dead Diva as well as the Steve Carrell directed and produced pilot Angie Tribecca starring Rashida Jones.
Releasing in June, Bently will be starring in the film The Ghost of Goodnight Lane alongside Billy Zane and Lacy Chabert. Premiering on Christmas day, Christine lights up Hot Tub Time Machine 2, starring Rob Corddry, Adam Scott, and Craig Robinson.
Recently, Maxim magazine featured Christine with full spreads in both their December 2013 & April 2014 issues.
As a fashion aficionado, she had the honor of appearing in other top magazines such as the iconic Vogue. "I live for fashion. Roberto Cavalli and Louis Vuitton are a two of my favorite designers," Christine gushes. Lucky for her, there are a lot of red carpets in her future.
Christine is represented by Agency for the Performing Arts (APA) and Cassandra Campbell.
Artist Contact Information:
Twitter @BentlyChristine
Instagram @BentlyChristine