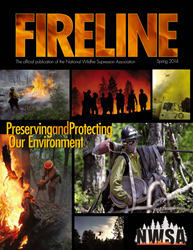 All of us in the wildland fire services know that it takes an orchestrated family of firefighters to battle the blazes as they grow larger.
Lyons, OR (PRWEB) May 29, 2014
As fire season starts to ramp up across the US, an army of firefighters is training, and preparing to fight the blazes. The National Wildfire Suppression Association saw a need for a publication that would talk about wildfires, and those that fight the fires and is proud to announce that our premiere Edition of Fireline, the official NWSA magazine has been released this week.
"We saw the need for a vehicle to share information on those that fight the fires, scientific research, fire weather, and so many other topics, and when we were approached by a publisher about designing a magazine for the industry, we were excited to get out our first edition," said Deborah Miley, Executive Director for the NWSA.
We look to future editions to include articles about agency, cooperators and private industry as well as some information on costs, science of fires, and other topics of interests to not only those in the fire industry but the homeowner in a fire prone area, the agency responsible for caring for our federal, state and private lands and the general public.
Our first issue talks about the role of the professional private fire industry, and introduces you to four firefighters on the ground.