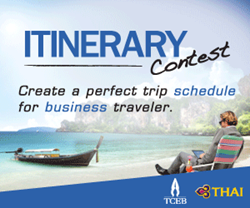 (PRWEB) May 29, 2014
The contest is welcoming trip planners and business travelers from all over the world to design pre- and/or post-tour itineraries including agenda items, destinations, and recreational activities. Based on the viability and desirability of the entries, five final itineraries will be chosen to compete in the final round via voting on social network. The itinerary with the most votes will be awarded THAI Airways flight tickets (for two) together with boutique accommodation in Thailand.
TCEB and Thai Airways aim to enhance awareness of Thailand as one of the world's best business event destinations, a place that provides singular, memorable experiences.
For more information and to take part in the activity, please visit http://www.businesseventsthailand.com/itinerarycontest.