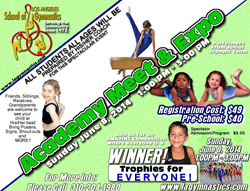 "We are proud to support the Olympic Movement and encourage children to lead healthy, active lives," says Tanya Berenson, General Manager of LASG
Culver City, CA (PRWEB) May 29, 2014
The spirit of the Olympic Movement will roll into Culver City as The Los Angeles School of Gymnastics (LASG) is set to host Academy Meet Day in celebration of Olympic Day.
This event will feature a simulated Olympic theme competition put on by the entire student body for their family and friends. LASG students will be performing a pseudo theme Olympics. Scheduled to appear at the competition are Two-Time Olympian and US Gymnastics Hall of Fame member, Steve Hug and Rhythmic Olympian Gymnast, Svetlana Or Tokaev. Hug and Tokaev will be available for photo opportunities and autographs for the students.
"We are excited to take part in Olympic Day and inspire kids in the Los Angeles community," said Tanya Berenson, General Manager of LASG. "We are proud to support the Olympic Movement and encourage our students to lead healthy, active lives."
The Los Angeles School of Gymnastics Academy Meet Day activity is one of more than 700 events taking place nationwide designed to engage youth and promote the ideals of the Olympic movement, feature athlete appearances, family-friendly activities and interactive learning experiences.
Around the world, more than 160 countries take part in the annual celebration. Olympic Day, created in 1948 to commemorate the birth of the modern Olympic Games, focuses on the Olympic values and ideals such as fair play, perseverance, respect and sportsmanship. In the U.S., Olympic Day events range from small gatherings to large, city-wide events.
General admission is available on a first-come; first-serve basis. Early arrival is suggested with a minimum of 30 minutes prior to the showcase start time. VIP seating is limited to (4) seats per family and includes a complimentary Official Event Program and VIP gift bag autographed photo of USA National level gymnast and $10.00 coupon towards any product or service at LASG. To purchase tickets or for more information about Academy Meet Day please contact the LASG at 310-204-1980, email info(at)lagymnastics(dot)com or visit us at http://www.lagymnastics.com
Media Contact: For media requests, please contact Deirdre Lopian at Deirdre.Lopian(at)gmail(dot)com or call 609-553-4023.
About Los Angeles School of Gymnastics
Named by Los Angeles Magazine as the "best gymnastics center in LA," the LASG is a nonprofit Olympic-quality gymnastics training center. It is considered among the top facilities in the country, which has been training Los Angeles youth since 1975. Led by Alla Svirsky, LASG has provided thousands of young athletes with quality gymnastics instruction and has produced several Olympians and internationally-ranked athletes.