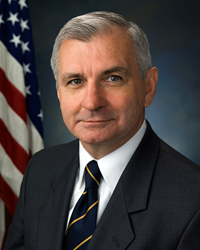 From a cost perspective, technicians may be one of the best kept secrets in all of Department of Defense."
New Orleans, LA (PRWEB) June 03, 2014
The Laborers International Union of North America's National Guard District Council (LIUNA NGDC) readily supports Senator Jack Reed's re-introducing of the National Guard Technician Equity Act. On May 8th, 2014, Sen. Reed introduced Senate Bill 2312, which seeks "to eliminate inequities" in the treatment of technicians. LIUNA NGDC says that Senator Reed's legislation targets certain compensation and due process shortfalls that specifically impact National Guard dual-status technicians.
"Technicians tend to be more knowledgeable, experienced, and cost effective than their less experienced and higher paid active duty counterparts. From a cost perspective, technicians may be one of the best kept secrets in all of Department of Defense," says Ben Banchs, Business Manager at LIUNA NGDC.
Technicians are a special category of Federal civil service employees. Their duties range from clerical to mechanical. Technicians maintain computer networks, handle pay and benefits, and operate and maintain combat systems at a readiness level on par with and at a marked savings over their active duty counterparts. The National Guard costs less than the active duty force. In order to maintain a high level of readiness while keeping costs low the National Guard relies on a small full-time workforce of Federal civil service employees commonly known as dual-status technicians (DSTs). Over 48,000 National Guard dual-status technicians serve throughout the 54 states, territories, and the District of Columbia.
The program is nearing its 50th year in existence, and some, including Sen. Jack Reed (D-RI), believe there are areas that could use improvement. One of the issues Sen. Reed is concerned with is that technicians are regularly being denied the opportunity to reach full civil service retirement age. In a report which accompanied the original bill passed in 1968, the Senate Armed Services Committee (SASC) made it clear that technician employment was meant to be "career employment, with retention of qualified technicians in the military until age 60" (ref. SASC Report No. 1446, July 22, 1968, p. 12-13).
Two of the most important provisions in Sen. Reed's legislation deal with a technician's ability to reach full retirement age. The first provision would allow a dual-status technician to convert to non-dual status after 20 years of creditable technician service. The second would exempt technicians from being considered for involuntary separation by the Army/Air Force's qualitative/selective retention board process.
In addition to retirement parity, Sen. Reed's bill seeks to extend technicians the same due process rights afforded to other Federal employees under the law in order to appeal and seek review of adverse personnel actions directly related to their duties as civilian employees.
S. 2312 also contains provisions that LIUNA NGDC believes could save taxpayer's money. One of the money-saving provisions seeks to close a loophole in the law that permits Federal employees who volunteer for Active Guard Reserve (AGR) duty to "double-dip" by allowing them to earn and use 120-hours of annual military leave under 5 USC § 6323 during their period of activation. Cashing-in of the 120-hours is permitted by law even though the member volunteered for the tour and in spite of the fact that in the vast majority of cases the motivation for volunteering is that AGR compensation is higher than their normal civil service salary/wage. The annual savings to the National Guard, alone, are estimated to be about $10 million in payroll and $5 million in Federal retirement benefits. The savings for the entire Federal workforce could be significantly higher.
Sen. Reed's bill also seeks two studies. The first is to determine whether it would make fiscal sense to allow National Guard technicians the opportunity to participate in the TRICARE Reserve Select (TRS) Program. TRS is a comprehensive health insurance benefit available to all members of the National Guard and Reserve. The policy's individual premium is just over $200 per month for family coverage, which is (in some cases) upwards of 50% cheaper than a similar policy under the Federal Employee Health Benefit Program (FEHBP). However, since National Guard technicians are eligible for FEHBP, they are legally disqualified from taking advantage of TRS.
The other study contained in the bill seeks to find out exactly how much time Federal employees who are also members of the National Guard are spending away from their civilian jobs each year in order to fulfill military operational and training requirements. The military ops tempo since 9/11 has placed an unprecedented burden on members of the reserves, forcing them to be absent from their civilian jobs for repeated periods of time and duration. The study seeks to capture how long those absences are, and what, if anything, should be done about it.
Lastly, the bill seeks to allow technicians the option of receiving either pay or compensatory time for periods of overtime worked. When the National Guard Technician Act was passed, it only allowed technicians to receive compensatory time for hours of overtime worked at a one-for-one rate. This is in sharp contrast to the majority of other Federal employees who receive a traditional overtime pay-rate of 1.5 (time-and-a-half). Sen. Reed's bill seeks to allow technicians the option of receiving either compensatory time or pay for overtime worked, much like other Federal workers, but would retain the cap on that overtime compensation at the current one-for-one level, ensuring that the provision is cost neutral.
LIUNA NGDC—the Laborers International Union of North America's National Guard District Council—is the most effective and fastest-growing union of National Guard technicians in the United States. LIUNA NGDC applauds Sen. Reed for introducing S 2312, and encourages all technicians to contact their individual Member of Congress and urge them to sponsor this legislation.