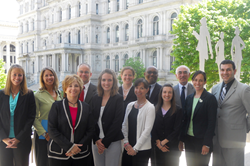 It's really about safety and providing the best possible care to the active people of New York.
Albany, NY (PRWEB) May 29, 2014
It's been over a year since bills A6678 (D-Lavine) and S4456 (R-Grisanti) were introduced into the NY State legislature, and in that time their support has steadily grown. Many legislators from both sides of the aisle have already signed on as co-sponsors as members of NYSATA continue to work around the clock to promote these bills. Despite this progress, there is still much work to be done. The governmental process is deliberate and methodical, so it does take time.
The bills currently sit in the Higher Education committees of each House, and more supporters are needed to bolster them up to a larger vote. Never a group to back away from a challenge, however - even with the end of the 2014 legislative session only a brief month away - the lobbying efforts of ATs from across NYS culminated in Albany on Wednesday, May 21st.
The strategy was simple: hold meetings with key legislators to educate them on the athletic training (AT) profession, outline the purpose and need of the Practice Act update, and kindly ask for their support as co-sponsor.
In short, these bills serve to update the AT Practice Act in NYS by clarifying part of its language and moving to licensure within NYS. Athletic training is a relatively young profession in comparison to other healthcare fields, and given the skill-set of ATs and unique niche they fill, it has greatly evolved since the passage of the first NYS Practice Act in 1992.
The education of athletic trainers has progressed significantly, with CAATE, an independent national accrediting body for AT Education Programs, as well as the Board of Certification for the Athletic Trainer (BOC), that oversees the national certification process of ATs and the required continuing education - 50 hours every two years – necessary to maintain that certification. In NYS, these educational updates have been readily accepted by the NY State Education Department (NYSED), yet there seems to be a clear lag on the side of professional regulation in NYS, as the athletic training competencies in the educational program exceeds what can be legally practiced in NYS.
If left unchanged, ATs will continue to be restricted from practicing to their full educational and clinical potential in New York State – a detriment to both these qualified healthcare professionals as well as the active and athletic populations they serve.
Led by NYSATA President, Deanna Errico, DPT, PT, ATC and NYSATA Governmental Affairs Committee Chair, Christine Jenkins, MS, ATC, a group of eleven NYSATA members stormed the capital to deliver their message. Athletic trainers in attendance represented a variety of traditional work settings, including collegiate, high school (direct hire), clinic-outreach to high school, AT education (teaching), as well as West Point military academy. Additionally, several of these members are dually certified as athletic trainers (ATs) and physical therapists (PTs) in NYS, and proudly shared their experiences in both areas. In total, eleven meetings were held and individual ATs took turns sharing their personal experiences with legislative staffers.
The United States Military Academy (USMA) at West Point continued its longstanding presence at lobby day again this year with Assistant AT, David Allen. Although he works primarily within their intercollegiate athletics program - a more traditional AT setting – he was able to speak to the use and value of ATs in other capacities at the Academy, including club and intermural sports, physical education courses, and with cadets as they complete their physically grueling conditioning and training. He and others also spoke of the growth of ATs nationally into other settings beside the military, including police, firefighters, NASCAR, rodeo, and performing arts, like Cirque du Soliel and ballet companies to name a few. Athletic trainers are being pulled into these settings based on the demand of these athletic and active populations who see the skill-set and services ATs can provide – a concept that can be encompassed in the tagline, 'Not All Athletes Where Jerseys'.
"Other settings are seeing the benefits of Athletic Training and are saying, 'We want that, too!'" TK Koesterer, Program Director of Athletic Training Education at SUNY Cortland, noted. Regarding another major benefit and unique aspect of ATs, he continued, "We are there when the injury occurs - on-site to properly manage the situation immediately. We are also there through the treatment, rehabilitation, and reconditioning process, working closely with the physician, until the individual is ready to return to play. We are present daily to monitor the symptoms and progress of each individual and help prepare them for a safe and efficient return to activity."
To clarify this to legislators, it was reinforced that even in these new settings, ATs always work under the supervision of a physician and continue to assess and manage only musculoskeletal injuries (e.g. strains, sprains, contusions) and conditions (e.g. dehydration, heat illness, concussion) associated with the physically active.
"It's really about safety and providing the best possible care to the active people of New York," Jenkins stated. "A move to professional licensure for ATs and availability of ATs to anyone who can benefit from their unique skill-set certainly falls within this mind set. Whether you're a traditional athlete playing on an organized team, a recreationally athletic person training for a marathon, a professional in a physically grueling field, or just enjoy leading an overall active, athletic lifestyle, shouldn't you have access to the most qualified healthcare provider for your needs if you sustain an injury related to such activities?"
Many legislators and their staff appreciated that point and proved a marked take-home point for the meetings. As the legislative session nears its end in June, ATs will continue to promote the need for their bills. With legislators soon to return to their home districts for the remainder of 2014, the focus will shift toward local athletic training room visits and continued communication by constituent athletic trainers with their local legislative offices across the state.
NYSATA, founded in 1976 and incorporated in 1989, stands to advance, encourage and improve the profession of athletic training (AT) by developing the common interests of its membership for the purpose of enhancing the quality of healthcare for the physically active in New York State. Athletic training is practiced by certified athletic trainers (ATs), who have expertise in the assessment, emergency management, rehabilitation and prevention of acute and chronic athletic-related injuries, illnesses and conditions, including concussions. Comprised of over 1,200 certified and practicing athletic trainers, NYSATA is the state-wide affiliate of the regional Eastern Athletic Trainers' Association (EATA) and District Two of the National Athletic Trainers' Association (NATA).