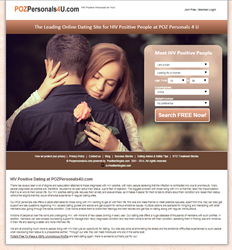 An Online Dating Site for People with HIV.
Los Angeles, CA (PRWEB) June 07, 2014
Based on the report from the CDC, more than 1.1 million people in the United States are living with the HIV infection, and almost 1 in 6 (15.8%) are unaware of their infection. There are still plenty of people with HIV in other counties.
"With so many people suffering from HIV, an online community like POZ Personals 4 U is very necessary and useful for them," said Jeffery, the leader of the POZ Personals 4 U team. "Having HIV can make people feel like they are all alone in the world, and it's difficult for them to make new friends and share a life with others. However, thanks to the online community, this website provides a place free of discrimination and judgment."
This HIV dating site is owned and operated by Successful Match and was established in March of 2014. It was founded to cater to HIV singles looking for support, information, friendship and romance. With many unique features on this dating website, we have reasons to believe that it will be one of the most popular STD dating sites in the future.
POZPersonals4U.com is not only a dating site, but also a place full of information about treatment stories, dating tips, success stories in online HIV dating and even more. The most excellent feature is STD Inspirational Stories, and all these stories were contributed by more than 1,300 real users. Read these stories to know how other people defeated HIV, and how they built up their confidence to start dating again.
Please visit POZPersonals4U.com to know more this HIV AIDS dating site.