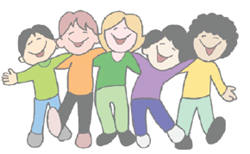 Sometimes we take the happiness right under our nose for granted.
Dallas, TX (PRWEB) May 29, 2014
An article published Tuesday on Time.com entitled "Why Some People Get Depressed And Others Get Resilient" shared the results of a new study by The Journal of Neuroscience showing why some people get depressed while others get resilient pointed to brain neurons as the trigger of the respective outlooks.
"It's interesting, because even though these are preliminary findings, scientists were able to pinpoint a biological reason in the medial prefrontal cortex (mPFC) area of the brain that differed in mice that became depressed versus mice that were resilient to stress," said Pamela Gail Johnson, Founder of The Secret Society of Happy People (http://sohp.com).
"While studies such as this are encouraging to those battling depression, science has yet to paint a complete picture of why some of us handle stress differently, we do know that cognitive behavior therapy and other ways of reframing our thoughts increase happy feelings and contentment," said Johnson.
The Secret Society of Happy People regularly provides tools to assist people in focusing on activities that provide happiness throughout the day rather than letting stress overwhelm people to the point of feeling depressed. The latest tool is a free Happiness Counter based on the Secret Society of Happy People's 31 Types of Happiness.
The Happiness Counter enables people to track events during a specific time period on a checklist to mark the type of happy feelings they encounter throughout the time period they've chosen, whether it is an hour or a day.
"As we go through a busy day of work, commutes, picking up the kids, and other activities, we sometimes take for granted little things that make us feel good. By noting those, and reviewing the checklist at the end of the time period, we can reassess our happiness quotient," said Johnson. By reassessing it, not only do people start to notice the little things they take for granted, they also start to recognize the feelings as they happen on subsequent days after the exercise is performed.
The Happiness Counter is available at http://sohp.com/happiness-counter/.
About The Secret Society of Happy People:
Pamela Gail Johnson founded the Secret Society of Happy People in 1998 to encourage the expression of happiness and discourage parade-raining. The Society has thousands of members from more than 34 countries. Ms. Johnson is a public speaker for organizations and companies around the country who want to promote happiness among their members or employees. The Secret Society of Happy People offers memberships to anyone interested in learning how to improve their happiness quotient. The free membership includes a downloadable Happiness Word Poster, a monthly Happiness Happens newsletter and an optional Daily Happiness Inspiration email. The society also offers videos, books and daily inspirations to promote happiness.
Media Contact:
Pamela Gail Johnson
(972) 459-7031
(469) 358-3914
pamelagail(at)sohp(dot)com