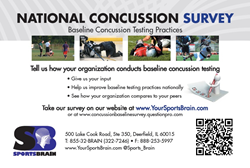 "We are excited to participate in the White House's Healthy Kids & Safe Sports Concussion Summit and we believe that this report will emphasize the challenges which are inherent in tracking concussions."
Deerfield, Illinois (PRWEB) May 29, 2014
In preparation for Sports Brain's participation in the White House's Healthy Kids & Safe Sports Concussion Summit, Sports Brain has released its annual NFL Concussion Report comparing data from a variety of sources to highlight the difficulties in gathering accurate data about concussion diagnosis and recovery. Spanning over 30 pages, this report examines concussions from a variety of different perspectives and analyzes some of the many issues about the concussion reporting practices and the Return-To-Play compliance within the NFL.
"We compiled our charts based on the raw data from three sources," said Roy Kessel, Founder of Sports Brain. "The sources were: The Concussion Blog written by Dustin Fink, an athletic trainer in Central Illinois; PBS Frontline's Concussion Watch; and the Twitter account of @NFLconcussions. One of the reasons we included three sources was that we wanted to highlight some of the inconsistencies in the data."
The reports contain charts which are categorized:

Team by Team
Year by Year
Week by Week
Position by Position
Division by Division
Conference by Conference
Concussions Caused by Team
Games Missed.as a Result of Concussions
Copies of Sports Brain's NFL Concussion Report are available for download from Sports Brain's website at http://www.SportsBrain.com.
"We hope that this report will provide a push to create more accurate data gathering mechanisms at all levels of sports," said Kessel. "We are excited to participate in the White House's Healthy Kids & Safe Sports Concussion Summit and we believe that this report will emphasize the challenges which are inherent in tracking concussions."
"When you look at reports, you see that as recently as 2010 and 2011 there were NFL teams that had zero reported concussions. Given what we know about concussions today, it is difficult to believe that these numbers were accurate."
"Some other interesting observations when you look into the numbers is the fact that almost half of the NFL teams averaged under 5 concussions during the course of Frontline's detailed analysis in 2012 and 2013. Another surprising number is that only 2 teams reported 10 or more concussions in 2012 and only 1 reported 10 or more concussions in 2013."
"Perhaps the most disturbing finding was that over 50% of the players in the NFL who suffered a diagnosed concussion did not miss even one game as a result of their concussion. Additionally, almost 83% missed no more than one game," said Kessel. "Given the complexity of proper compliance with a comprehensive Return-To-Play protocol, it seems very unlikely that such a high percentage of players would be able to get through the entire process within less than seven days."
"There are many reasons that tracking concussions is so difficult," said Kessel. "The primary reasons are:
i) lack of required reporting;
ii) delayed reporting;
iii) lack of diagnosis;
iv) desire to hide injuries; and
v) misclassification of injuries.
"We hope that a more widespread understanding of the difficulties in tracking concussions will encourage governing bodies like the NFL, NHL, NCAA, USA Football and all others to implement full scale reporting systems which are easy for the teams to use and which incorporate significant degrees of accountability," said Kessel.
"One of the reasons that we launched our National Concussion Survey was to specifically examine the existing baseline concussion testing practices across the country. What we have found is that there was no uniform baseline concussion testing going on at any level of sports and there are significant variances across geographic locations, sports, and levels of competition. We anticipate release the full report in early August," said Kessel.
"It is also important for the NFL to take the lead in establishing the proper Return-To-Play protocols and holding their teams accountable for compliance. Otherwise, our youth athletes are taught that the expectation for them to Return-To-Play or Return-To-Learn is very short and they believe that they should not be missing any games.
About Sports Brain:
Sports Brain is a national organization, based in suburban Chicago, concentrating on the implementation of comprehensive baseline concussion testing and concussion management programs for youth, high school, college, and professional sports organizations. Sports Brain also provides cognitive, mental toughness, and leadership development training to maximize mental performance both on and off the field. Sports Brain fights concussions by offering flexible schedules with multiple locations to make baseline testing more accessible. For more information, visit http://www.SportsBrain.com.