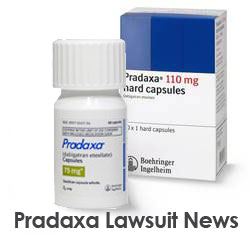 Columbus, OH (PRWEB) May 29, 2014
Wright & Schulte LLC, an experienced personal injury law firm representing plaintiffs in Pradaxa lawsuits pending in federal court, reports that Boehringer Ingelheim has agreed to pay $650 million to settle Pradaxa lawsuits filed on behalf of plaintiffs who allegedly experienced serious internal hemorrhaging after taking the blood thinner. In a May 28, 2014, news release announcing the agreement, Boehringer Ingelheim stated that the "comprehensive settlement" will resolve approximately 4,000 Pradaxa claims pending in state and federal courts across the United States. (In Re: Pradaxa (Dabigatran Etexilate) Products Liability Litigation – MDL No. 2385)
[forbes.com/sites/larryhusten/2014/05/28/
boehringer-ingelheim-settles-us-pradaxa-
litigation-for-650-million/, May 28, 2014]
Boehringer Ingelheim further stated that the Pradaxa lawsuit settlement is not an admission of liability, but a way to avoid the "distraction and uncertainty" of lengthy Pradaxa litigation. Boehringer Ingelheim expects all of the plaintiffs in the pending complaints will accept the Pradaxa settlement offer and the company intends to continue litigation with plaintiffs who do not accept the agreement. Court documents show that more than 2,400 Pradaxa lawsuits are pending in multidistrict litigation in the U.S. District Court, Southern District of Illinois on behalf of plaintiffs who allege they suffered bleeding side effects after taking the prescription medication.
According to Reuters, a lawyer for the plaintiffs commended Boehringer Ingelheim for "doing the right thing" and said he believed the plaintiffs would receive their compensation within a year. Reuters also reported that the compensation each plaintiff receives will be based on the nature and severity of the alleged injury.
[reuters.com/article/2014/05/28/us-boehringer-lawsuit-idUSKBN0E81BL20140528?feedType=RSS, May 28, 2014]
Pradaxa, an anticoagulant known generically as dabigatran etexilate, received approval by the U.S. Food & Drug Administration (FDA) in 2010 as a prescription medication used to prevent strokes and blood clots in patients with atrial fibrillation (heart rhythm disorder). After receiving complaints about Pradaxa bleeding complications, the FDA commissioned a study that used information from more than 134,000 Medicare patients 65 years and older to compare Pradaxa to warfarin, a blood thinner that has been in use for decades. The study found that new Pradaxa users had a lower risk of having clot-related strokes, bleeding in the brain, and death, but a higher risk of having major gastrointestinal bleeding than those who used warfarin. The FDA study also found the risk of a heart attack was similar for the two blood thinners. Based on the study, the FDA concluded Pradaxa has a "favorable benefit to risk profile" and the federal agency stated that it will not make changes to the drug's current label or recommendations for using Pradaxa.
[fda.gov/Safety/MedWatch/SafetyInformation/SafetyAlertsforHumanMedicalProducts/ucm397179.htm, May 13, 2014]
Court records indicate that plaintiffs who filed Pradaxa lawsuits view the prescription blood thinner differently than the FDA. Plaintiffs who filed claims against Boehringer Ingelheim allege that the company did not disclose the dangerous side effects of Pradaxa and misleadingly positions Pradaxa as an improvement over warfarin. The lawsuits further contend that there is currently no antidote for bleeding allegedly as a result from taking Pradaxa, other than taking dialysis to remove the medication from a person's blood stream. Warfarin bleeding, on the other hand, can be stopped by administering vitamin K.
Wright & Schulte LLC is representing plaintiffs in Pradaxa complaints that have been filed in the federal multidistrict litigation, and continues to offer free legal consultations to victims who allege that they suffered Pradaxa bleeding side effects. For more information on filing a Pradaxa lawsuit, or to arrange for a free legal consultation, please visit yourlegalhelp.com.
About Wright & Schulte LLC
Wright & Schulte LLC, an experienced personal injury firm, is dedicated to the belief that America's legal system should work for the people. Every day, the attorneys of Wright & Schulte LLC stand up for the rights of people who have been injured or wronged and fight tirelessly to ensure that even the world's most powerful corporations take responsibility for their actions. If you're looking for a law firm that will guarantee the aggressive and personal representation you deserve, please do not hesitate to contact Wright & Schulte LLC today. Free Pradaxa lawsuit case evaluations are available through yourlegalhelp.com or by calling 1-800-399-0795.
Contact:
Wright & Schulte LLC
812 East National Road
Vandalia, Ohio 45377
1-800-399-0795
http://www.yourlegalhelp.com
Like us on Facebook
Follow us on Twitter