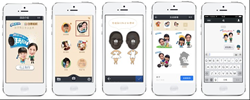 Shanghai, China (PRWEB) May 30, 2014
China's digital environment changes rapidly, almost month by month. This makes keeping up with the newest platforms, technologies, and social trends a challenge for any brand in the marketplace.
However, the benefits for those who do keep up are immense. By leveraging Wechat, the newest social media platform in China with over 350 million monthly active users, Oreo was able to engage with its Mainland China consumer base over 13 million times over the span of just 3 weeks.
The Oreo Bonding Emoji campaign was launched in the spring of 2014, its Wechat official account containing an app suitable for both parents and children, integrated seamlessly with O2O components.
The APP utilized Wechat's picture taking and sharing functions to create a branded experience in which users could take photos of themselves and their children and paste the heads into corresponding Emojis. Any sort of pictures were available to use, even photos of the users' favorite stars and celebrities. These Emojis then had a number of different templates and cute actions to choose from. This content proved to be immensely shareable and popular with both the old and the young.
In order to further create engagement around the campaign, Oreo Bus Stations were also placed in selected locations around key cities. These stations allowed you to project your Emojis onto the Bus Station big-screen, remote-control their actions, and even print out Emoji stickers to take home as souvenirs.
Technologies such as QR codes played a key role in the experience. Users were able to create content, share the content, and interact with other users without having to leave the Wechat application. This was made possible due to the utility and flexibility of Tencent's Open API system—itself a new breakthrough in China's social media environment.
The Oreo Bonding Emoji campaign proved to be a great success, with over 99 million Emojies generated in 11 weeks alone. 10 million were shared with friends and family directly from WeChat. Perhaps even more impressive, were the 1.9 billion impressions made across all the leading social networks, including WeChat and Weibo.
China's digital ecosystem—like the country is a whole—changes and shakes at breathtaking pace. But the rewards are there for those who have the innovation and creativity to truly breakthrough and pioneer new changes within the industry, as Oreo has done with their most recent campaign.