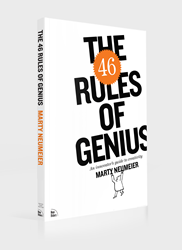 Most of the creative people I know are consumed by their projects, and reading a long book is a luxury they can't afford. So I've written a concise guide that can be read quickly over a lunch break or savored slowly over a lifetime.
San Jose, CA (PRWEB) May 29, 2014
Liquid Agency, an independent brand experience agency, today announced The 46 Rules of Genius: An Innovator's Guide to Creativity (New Riders, May 29, 2014, $24.99), the latest book by Marty Neumeier, Director of Transformation at Liquid Agency and author of The Brand Gap, Metaskills, and other books on business creativity. With his trademark simplicity and wit, Neumeier presents the first "quick start guide" for genius in this collection of thought-provoking ideas for developing the creative talents that drive innovation.
The Rules of Genius premise is simple but powerful: There's no such thing as an accidental genius. Anyone who has reached that exalted state has arrived there by design. But simply wanting to get there is not enough. The Rules of Genius provides all would-be geniuses with a theoretical framework and set of guiding principles to help discover and hone their creative skills.
"A genius doesn't start out as a genius at everything but a genius at something," says Neumeier. "You can be a genius in molecular biology, or a genius at reading people's feelings. You can be a genius at programming software, or a genius at broken-field running. None of these disciplines requires a high IQ. What they require instead is a high regard for creativity. This puts genius-hood within the reach of nearly everybody."
Neumeier's goal is to do for creativity what Strunk and White's The Elements of Style did for writing. "Most of the creative people I know are consumed by their projects, and reading a long book is a luxury they can't afford. So I've written a concise guide that can be read quickly over a lunch break or savored slowly over a lifetime," adds Neumeier. The audience is entrepreneurs, marketers, educators, artists, scientists, designers, and leaders.
The book is organized into four parts:

Part 1, "How can I innovate?" offers insightful guidance such as "Feel before you think," "See what's not there," and "Ask a bigger question." Rule #1 gives the paradoxical advice: "Break the rules."
Part 2, "How should I work?" offers down-to-earth tips on craft: "Use a linear process for static elements," and "Express related elements in a similar manner." The reader is also reminded: "Don't be boring!"
Part 3, "How can I learn?" contains practical advice including "Do your own projects," "Invest in your originality," and "Develop an authentic style."
Part 4, "How can I matter?" deals with the deeper questions of a career in creativity, such as "Overcommit to a mission," "Build support methodically," and "Become who you are."
Praise
(The following praise appears on the front cover flap of the book)
"Creativity can be hard work, but it just got easier with Neumeier's clear-thinking guidelines. Use them to build your own unique creative confidence." — Tom Kelley, Partner at IDEO, Co-author of Creative Confidence
"Innovators know that unfavorable odds call for unreasonable optimism. Now we also have a toolbox of rules—to play with, refer to...and break." — John Maeda, Design Partner at KPCB, Author of The Laws of Simplicity
"Here are 46 tips that have helped shape our greatest practitioners from every discipline and generation. Best of all, Neumeier takes his own advice from rule 18: Don't be boring!" — Paula Scher, Partner at Pentagram, Winner of the Chrysler Award for Innovation and Design
Reviewer Resources:
The 46 Rules of Genius: An Innovator's Guide to Creativity
By Marty Neumeier
Published by New Riders
May 19, 2014
ISBN: 978-0-13-390006-4
$24.99
Available in print and ebook formats.
Additional information at http://www.rulesofgenius.com and follow the discussion on Twitter #GeniusRules
Buy the book at Amazon, Peachpit, Barnes & Noble and other retailers worldwide.
Media inquiries and book reviewers, please contact heather.racicot(at)liquidagency(dot)com.
About the Author
Marty Neumeier is a designer, writer, and business adviser whose mission is to bring the principles and processes of creativity to modern business. His recent book, Metaskills, explores the five essential talents that will drive innovation in the 21st century. Previous books include The Designful Company; ZAG, named one of the "top hundred business books of all time;" and The Brand Gap, considered by many the foundational text for modern brand-building. Neumeier has worked closely with innovators at Apple, Netscape, Sun Microsystems, HP, Adobe, Google, and Microsoft to advance their brands and cultures. In his current role as Director of Transformation for Liquid Agency, Neumeier advises clients on brand experience and leads workshops on the topics of innovation, brand, and design.
About Liquid Agency
Liquid Agency advances brands and business through Silicon Valley Thinking. With brand at their core, they create holistic brand experiences that help companies create greater value. They work in partnership with their clients in a highly collaborative way – one that favors experimentation, curiosity and big thinking.
Founded in 2000, Liquid has grown into one of the top brand experience agencies rooted in the Silicon Valley. Today, they have US offices in San Jose, San Francisco, Portland, and New York, and international offices in Nottingham, UK and Santiago, Chile. Liquid is committed to delivering effective brand experiences through their Silicon Valley Thinking approach, and culture of innovation. Their work encompasses brand strategy, brand identity, brand marketing, environmental branding, employee branding, digital branding and brand management. Liquid has helped launch new products and new companies, and helped revitalize existing brands; delivered complete retail merchandising solutions, interactive branding programs, integrated marketing campaigns, and comprehensive environmental branding projects. Liquid has worked with a diverse set of global clients including Adobe, Cisco, Google, HP, Intel, Microsoft, NASDAQ, Nike, Sony, and Walmart.
About New Riders
New Riders is an imprint of Peachpit and part of Pearson, the international media company. Pearson's primary operations also include the Financial Times Group and the Penguin Group. Learn more at http://www.peachpit.com and http://www.pearson.com.